© 2009
Global Values Education
Teaching Democracy and Peace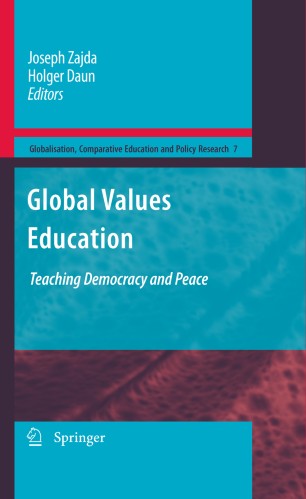 About this book
Introduction
This, the seventh in the 12-volume series Globalisation, Comparative Education and Policy Research, presents scholarly research on major discourses in values education globally. It is an accessible, practical yet scholarly resource that explores international concerns in the field of globalisation and comparative education. A vital sourcebook of ideas for researchers, practitioners and policy makers in values education, multiculturalism and moral education, the volume also provides a timely overview of current issues affecting values education, comparative education and education policy research in the global culture.
Drawing on recent studies in the areas of globalisation, equity, social justice, and the role of the state, the book critically examines the interplay between values education, globalisation, and dominant ideologies, and reflects on its implications for policy. It goes further to explore conceptual frameworks and methodological approaches applicable in the research covering values education, globalisation, equity, and multicultural education. Individual chapters critically analyse the dominant discourses and debates pertaining to values education, multiculturalism and relevant comparative education discourses. In addition, the book evaluates the ambivalent and problematic relationship between the state, its dominant models of values education, globalisation and social change.
The authors employ a number of diverse paradigms in comparative education research, ranging from critical theory to globalization. By focusing on ideology, globalisation and democracy, they attempt to examine critically both the reasons for, and the outcomes of, education reforms in the domain of values education, policy change and transformation. In doing so, they provide a more informed critique of Western-driven models of accountability, quality and school effectiveness.
Keywords
Moral
Multicultural Education
Peace Education
education
education policy
educational research
human rights
Bibliographic information