Microbial Inoculants in Sustainable Agricultural Productivity
Vol. 1: Research Perspectives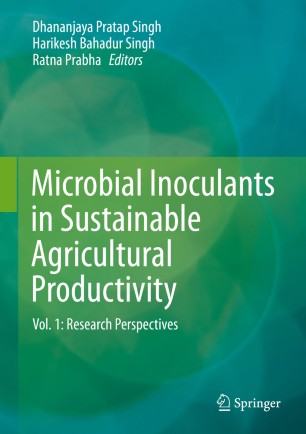 Table of contents
About this book
Introduction
How to achieve sustainable agricultural production without compromising environmental quality, agro-ecosystem function and biodiversity is a serious consideration in current agricultural practices. Farming systems' growing dependency on chemical inputs (fertilizers, pesticides, nutrients etc.) poses serious threats with regard tocrop productivity, soil fertility, the nutritional value of farm produce, management of pests and diseases, agro-ecosystem well-being, and health issues for humans and animals. At the same time, microbial inoculants in the form of biofertilizers, plant growth promoters, biopesticides, soil health managers, etc. have gained considerable attention among researchers, agriculturists, farmers and policy makers.
The first volume of the book Microbial Inoculants in Sustainable Agricultural Productivity - Research Perspectives highlights the efforts of global experts with regard to various aspects of microbial inoculants. Emphasis is placed on recent advances in microbiological techniques for the isolation, characterization, identification and evaluation of functional properties using biochemical and molecular tools. The taxonomic characterization of agriculturally important microorganisms is documented, along with their applications in field conditions.
The book exploresthe identification, characterization and diversity analysis of endophytic microorganisms in various crops including legumes/ non-legumes, as well as the assessment of their beneficial impacts in the context of promotingplant growth. Moreover, it provides essential updates onthe diversity and role of plant growth promoting rhizobacteria (PGPR) and arbuscular mycorrhizal mycorrhizal fungi (AMF). Further chaptersexamine in detailbiopesticides, thehigh-density cultivation of bioinoculants in submerged culture, seed biopriming strategies for abiotic and biotic stress tolerance, andPGPR as abio-control agent. Given its content,the book offers a valuable resource for researchers involved in research and development concerningPGPR, biopesticides and microbial inoculants.
Keywords
Biofertilizers
Bio-Inoculants
Biopesticides
Microbial Identification
Microbial Technology
Omics Research
Plant Growth
Plant-Microbe Interaction
Soil Health
Bibliographic information