An Investigation into the Detection and Mitigation of Denial of Service (DoS) Attacks
Critical Information Infrastructure Protection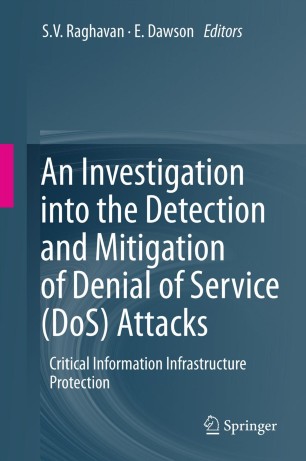 About this book
Introduction
The problem of Denial of Service is now so pervasive that virtually every computer connected to a network has the potential to be affected in some way. As things stand DoS and DDoS attacks present significant challenges to the continued use of the Internet for critical communications. The aim of this publication is to report on a collaborative research project into DoS and DDoS attacks undertaken jointly by a consortium of institutions from India and Australia. The publication offers insight into the complexity of the problem to be solved as well as the breadth of the research being conducted into the various facets of the DoS/DDoS problem. Some of the areas covered are: DDoS behavior understanding in real-time at high-packet rates, management of web services during DDoS, Creating conducive environments for DDoS prevention through provable authentication protocols, Identification of vulnerabilities specific to DDoS in emerging technologies, and the process of sustaining a legal, regulatory, and policy ambience with international cooperation.
Professor S V Raghavan is currently Scientific Secretary, Office of the Principal Scientific Advisor to Government of India. He is also a full Professor in the prestigious Indian Institute of technology Madras, Chennai. Professor Raghavan is the Chief Architect and the Chairman, Technical Advisory Committee to National Knowledge Network (NKN), a Government of India initiative to interconnect and integrate 1500 knowledge institutions in India and integrate NKN with global science through dedicated international linkages in a seamless manner. His current research interests are Technology, Health, and Education, where he has significant contributions in the recent years. Location technologies, Evolutionary addressing, Discovering Redundant multi-paths, IR Imaging for Breast Cancer, and pedagogy based adaptive and reusable learning modules are some of them. Professor Raghavan is the Project Director of the Indo-Australian Joint Project to understand Distributed Denial of Service Attacks on Critical Information Infrastructure.
Professor Ed Dawson is a Professor Emeritus in the Information Security Institute. From 2005 until 2007, he was the Research Director of the Information Security Institute (ISI). Prior to the formation of the ISI, he was the Director of the Information Security Research Centre (ISRC). He has research interests in all aspects of cryptology especially related to the design and analysis of encryption algorithms and their application to e-commerce and secure communications. He has published over 250 research papers. Over the last five years, he has received over $7,000,000 in external funding. Professor Dawson was the Vice-President of the International Association of Cryptology Research (2008 – 2010) and the node leader of the Information Security component of the Australian Research Council networks, Research Networks for a Security Australia.
Keywords
Critical Information Infra. Prot
Cyber Law
Cyber Security
IT Policy
Network Technology
Bibliographic information
DOI

https://doi.org/10.1007/978-81-322-0277-6

Copyright Information

Springer India Pvt. Ltd. 2011

Publisher Name

Springer, India

eBook Packages

Computer Science

Print ISBN

978-81-322-0276-9

Online ISBN

978-81-322-0277-6