© 2012
Frontiers in Statistical Quality Control 10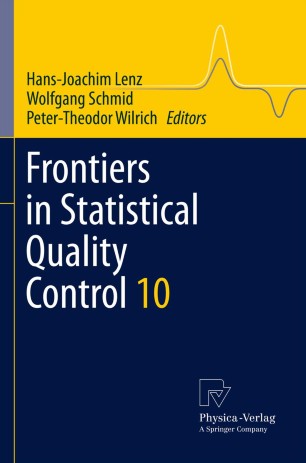 About this book
Introduction
The 10th International Workshop on Intelligent Statistical Quality Control took place in Seattle, USA, Aug 18-20, 2010. It was hosted by Professor C. M. Mastrangelo, Department of Industrial and Systems Engineering, University of Washington, Seattle. The workshop was jointly organized by Professors H.- J. Lenz, C. M. Mastrangelo, W. Schmid and P.-T. Wilrich. The twenty-seven papers in this volume were carefully selected by the scientific program committee, reviewed by its members, revised by the authors and, finally, adapted for this volume by the editors.
The book is divided into two parts: Part I "On-line Control" covers fields like control charting, monitoring and surveillance as well as acceptance sampling. Part II "Off-line Control" is devoted to experimental design, process capability analysis and data quality.
The purpose of the book is on the one hand to provide insights into important new developments in the area of statistical quality control – especially surveillance and monitoring – and on the other hand to critically discuss methods used in on-line and off-line statistical quality control.
Keywords
Frontiers
Process Adjustment
Public Health Surveillance
Quality Control
Statistical Theory
Taguchi's Linear Graphs
Bibliographic information
Reviews
From the book reviews:
"This edited volume contains affluence information, a one-stop shop. … All the chapters are self-contained, in a sense. The volume showcases many useful topics and procedures for practitioners and researchers alike in the arena of statistical quality control. The book can also be served as a reference book. The papers in the volume are presented in an intuitive and appealing manner, giving the volume an accessible and wider readership." (S. E. Ahmed, Technometrics, Vol. 55 (3), August, 2013)