PEGylated Protein Drugs: Basic Science and Clinical Applications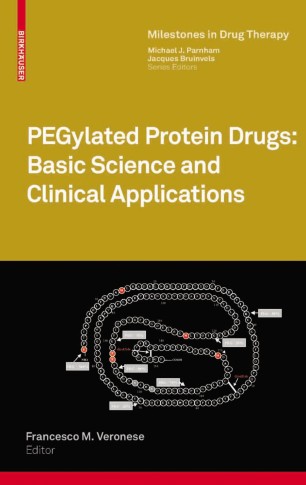 About this book
Introduction
PEGylated Protein Drugs: Basic Science and Clinical Applications describes the basic technologies and the major results obtained with the PEGylation technique, the covalent binding to proteins, peptides and small organic molecules of the hydrophilic and biocompatible polymer poly(ethylene glycol) to improve their therapeutic efficacy.
The book results from the collaboration of recognized experts from academia and industry, working on various aspects of the PEGylation technology. The first chapters provide general information on the physicochemical, pharmacokinetic, immunogenic and toxicological properties of PEG and PEG-conjugates. The classical and more advanced chemical strategies for linking PEG to protein drugs are described as well as novel enzyme-catalysed approaches. Further chapters are devoted to important PEGylated products, namely PEG conjugates of enzymes, cytokines, antibodies or synthetic organic molecules already on the market or in an advanced state of clinical experimentation. Guidelines for the approval by the Health Agencies of these new nanomedicines are also reported as a last chapter.
Therefore, this book may be a unique instrument for a thorough review of the strategy, advantages and limitations of all aspects of drug PEGylation as well as a stimulation for researchers to develop new exploitations of this technology. It is of interest to physicians, biochemists, pharmacologists and chemists.
Keywords
Nucleotide
PEG preparation
PEGylation technique
Pegfilgrastim
Protein conjugation
cancer
cancer therapy
interferon
necrosis
pharmaceutical
preparation
protein
proteins
research
toxicity
Bibliographic information