© 2008
Advanced Autonomic Networking and Communication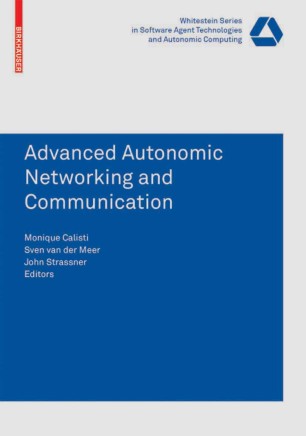 Table of contents
Architectures and Models

Middleware and Services

Networks
About this book
Introduction
This book presents a comprehensive reference of state-of-the-art efforts and early results in the area of autonomic networking and communication.
The essence of autonomic networking, and thus autonomic communications, is to enable the self-governing of services and resources within the constraints of business rules. In order to support self-governance, appropriate self-* functionality will be deployed in the network on an application-specific basis. The continuing increase in complexity of upcoming networking convergence scenarios mandates a new approach to network management.
This Volume explores different ways that autonomic principles can be applied to existing and future networks. In particular, the book has 3 main parts, each of them represented by three papers discussing them from industrial and academic perspectives.
The first part focuses on architectures and modeling strategies. Part two is dedicated to middleware and service infrastructure as facilitators of autonomic communications, and the last part addresses autonomic networks, specifically how current networks can be equipped with autonomic functionality and thus migrate to autonomic networks.
Keywords
Advanced networking
Agent-based systems
Autonomic communication
Autonomic computing
Autonomic network management
Middleware
Next generation networks
architecture
complexity
modeling
network management
optimization
Bibliographic information