© 2004
Kanalinspektion
Zustände erkennen und dokumentieren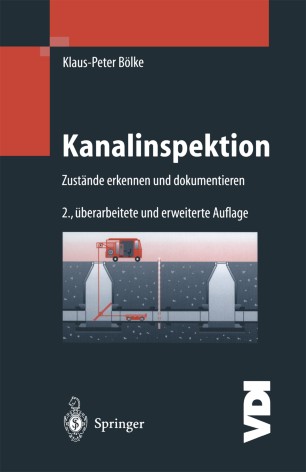 Part of the VDI-Buch book series (VDI-BUCH)
About this book
Introduction
Dieses Fachbuch ist ganz auf die Erfordernisse von Inspektionsfirmen, Ingenieurbüros und kommunalen Verwaltungen sowie praxisbezogener Ausbildung ausgelegt. Im Vordergrund stehen die Grundlagen zur Zustandserkennung. Daneben bietet das Buch den Praktiker interessierende Themen wie
- Ursache-Wirkungsprinzip für die Zustandserkennung,
- Zustandsdefinitionen,
- Materialspezifika,
- Inspektionspraktiken,
- Dokumentation sowie
- Hinweise für den Aufbau eines Leistungsverzeichnisses.
Für die 2. Auflage wurde das Buch gründlich überarbeitet und auf die EN 13508-2 und andere Europanormen abgestimmt. Wesentliche Inhalte der Vorauflage wurden vertieft und neue Themen, wie die Begehung, die Hausanschluss- und die Schachtinspektion, aufgenommen. Nationale Normen werden nun im Anhang aufgeführt.
Keywords
Abwassertechnik
Arbeitsschutz
Büro
Kanal
Kanalbau
Kanalbetrieb
Kanalisation
Kanalzustandsdefinition
Kanalzustandserkennung
Sanierung
Sicherheit
Wasserbau
Bibliographic information
Reviews
Klaus-Peter Bölke hat sich seit vielen Jahren der Kanalinspektion verschrieben. Jetzt hat er sein Wissen in einem umfangreichen Buch von 400 Seiten zusammengefasst. Es befasst sich mit dem Kanalnetz, einem beachtlichen Teil unseres "Volksvermögens", wie er betont, das bisher weitgehend übersehen wurde. Das Kanalfernsehen brachte sozusagen Licht in die dunkle Unterwelt unserer Städte. Jetzt wird erstmalig eine praxisnahe Beschreibung dieser Technik und ihrer Anwendung vorgelegt.
Natürlich muss derjenige, der den Zustand eines Kanalsystems aufnimmt, auch über die Entstehung dieses Systems - historisch und technisch - Bescheid wissen. Folgerichtig beginnt das Buch mit geschichtlichen und technischen Erläuterungen zur Kanalisation. Auch wenn diese Ausführungen technische Lehr- und Handbücher nicht ersetzen können und wollen, so sind sie doch hilfreich, wichtige Begriffe zu klären.
Die Betrachtung der Kanalisation geht von 6 Grundsachen und den zugehörigen Schadbildern aus und beschreibt zunächst die gängigen Codes zur Erfassung der Schäden. Im Kapitel "Theorie der Schäden" fasst der Autor seine langjährigen Erfahrungen systematisch zusammen, nachvollziehbar für den, der sich in dieses Gebiet einarbeiten will. Anhand vieler Fotos wird - wie auch in der folgenden Zustandsbeschreibung - erläutert, wie die Bilder aus der Unterwelt zu deuten sind, dabei lernt man das ABC der codierten Dokumentation im Detail.
Eingehend wird der Stand der Technik bei den Kanal-TV-Anlagen beschrieben, ebenso die Software zur Zustandserfassung. In 25 Regeln fasst der Autor zusammen, was er als die "Goldenen Regeln der Kanalinspektion" bezeichnet. Sie sollten nach seiner Auffassung grundsätzlich eingehalten werden, wenn man eine qualitativ hochwertige Kanalinspektion anstrebt. Inspektionsprotokolle, Codierungen und zugehörige Texte werden ebenso eingehend behandelt wie die Ausschreibung von Kanalinspektionen. Selbstverständlich darf das Thema Sicherheit und Arbeitsschutz in einer vollständigen Darstellung dieses Fachgebietes nicht fehlen.
Wartung, Inspektion und Instandhaltung sind die Bestandteile des Kanalbetriebes. Der Autor hat sich das Verdienst erworben, die Kanalinspektion in ihrer Gesamtheit klar und deutlich gemacht zu haben. Allen Technikern und Ingenieuren, die sich mit diesem Gebiet auseinandersetzen wollen oder müssen, wird dieses Buch von Nutzen sein.
Prof. Dipl.-Ing. Joachim Lenz, Oldenburg
Recognition and recording of incidents of damage
Over the years, large sums of money have been invested in sewerage networks in the interests of public health, with sewer systems becoming standard in urban areas as well as in rural areas during the last two decades. However, it has taken many years for the general realisation to catch on, that investment in the underground infrastructure also entails the necessary management and maintenance. After all, a sewer cannot be installed for eternal use, much as many an administrator would like.
Besides system adaptations, timely and regular maintenance is essential if the manager does not wish to be unpleasantly surprised by poor or non-functioning sewers. Prevention of such surprises must be emphasized, particularly with a view to the limited financial means generally available.
Klaus-Peter Bölke's book "Kanalinspection" (Sewer inspection) is a useful document. Readers are provided with the essential, basic technical knowledge by means of the description of the principles of modern day sewer installation. The author then continues by sketching the cross links to other working aspects which are vital to modern sewer management, such as inspection technique and codes, the software required and data recording, performance requirements and safety and working conditions. Safety during sewer work is emphasized strongly, along with the personal working conditions to be followed.
A clear description is given of all incidents of damage which can occur during the expected working life of a sewer. With a great degree of accuracy, the author gives instructions on how to record all possible aspects of such damage. This accuracy will certainly be of use to the sewer manager in assessment of the damage and formulation of the measures to be taken.
The author's methodology is also aimed at making a contribution to the essential discussion required for recognition and recording of the damage. His opinion is clear: the building blocks required for sound planning of maintenance and repair measures can only be gained from thorough recording and professional description of all incidents of damage.
The discussion among the users will have to determine whether the depth of recording and description of damage sought by the author is indeed always necessary for an effective policy, or whether less depth is required and desired in practice. However, this does not distract from the value of this book as a reference work for sewer managers requiring advice.
The author has given a sound description of the current state of know-how with regard to incidents of sewer damage. In installing new sewers and repair of existing ones, new materials were increasingly deployed over the past 10 years. In order to avoid the maintenance building up to such undesirably high levels again, sufficient inspection equipment must be made available in due time, based for example on the very detailed description given by Bölke. Only then can the quality and suitability of these new materials be satisfactorily determined at an early stage of their life.
The publication of this extensive reference book for sewer inspection signifies an important milestone in sewer land; and it will certainly not be the last!
Jhr. Ir. A.J.H. de Beaufort, Stichting RIONED, NL