© 2020
Continuity and Change of Party Democracies in Europe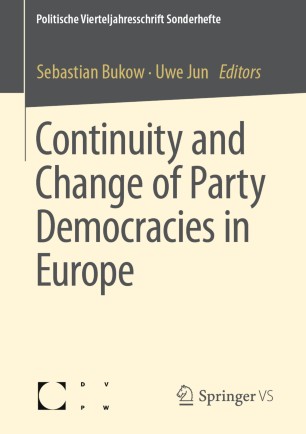 Table of contents
About this book
Introduction
This special issue of the German Political Science Quarterly addresses the transformation and the sustainability of European party democracies, both at the level of party organization as well as party systems and competition. The contributions in this volume are dedicated to these areas of change of European party democracies from different perspectives. It shows which new dynamics of change can be stated and how they can be explained.
Contents
Jun, Uwe • Bukow, Sebastian • Bolleyer, Nicole • Correa Vila, Patricia • Schmitt, Johannes • Franzmann, Simon • Detterbeck, Klaus • Gross, Martin • Schäfer, Constantin • Blombäck, Sofie • Krouwel, André • Bale, Tim • Tremlett, Lucas • Best, Volker • Lewandowsky, Marcel • Schindler, Danny • Höhne, Benjamin • Hohendorf, Lukas • Saalfeld, Thomas • Sieberer, Ulrich • Reinermann, Holger • Faas, Thorsten
Target Groups
Researchers and students in the fields of Political and Social Sciences
Editors
Dr. Sebastian Bukow
is Head of Politics and Party Research Division, Heinrich-Böll-Stiftung, Berlin.
Dr. Uwe Jun is Professor of Political Science (Political System of the Federal Republic of Germany) at the University of Trier.
Keywords
Party Democracy
Populism
Change
Europe
Parties
Party System
Crisis
European Union
Bibliographic information