© 2018
Sensornetzwerke in Theorie und Praxis
Embedded Systems-Projekte erfolgreich realisieren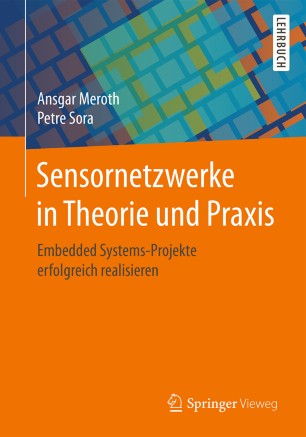 About this book
Introduction
Das Buch bildet eine wichtige Grundlage für das Verständnis des Internet of Things, indem es einen Einblick in gängige Vernetzungsprotokolle aus der Mikrocontrollerwelt bietet und wichtige Sensoren und andere Bausteine, sowie deren Einsatz und Programmierung vorstellt. Alle gezeigten Konzepte werden durch praktische Schaltungs- und Programmierbeispiele aus den langjährigen Erfahrungen der Autoren illustriert. Daneben stehen den Lesern offene Bibliotheken für die Ansteuerung der im Buch präsentierten Bauteile auf der Verlagshomepage zum Herunterladen bereit.
Der Inhalt
Kurzeinführung in C

Struktur und Programmierung von AVR Controllern

Wichtige Programmierkonzepte

Kommunikationsschnittstellen UART, SPI, I²C (TWI), CAN, Modbus, Bluetooth, ZigBee

Sensortechnik (Druck/Temperatur/Helligkeit/Beschleunigung usw.)

Programmierbare Bausteine (Flash, Uhr, Radio, Portexpander)&
Anzeigetechnik
Die Zielgruppen
Studierende an Technikerschulen, Hochschulen und Universitäten

Entwicklungsingenieure in Embedded Systems Projekten
Die Autoren
Ansgar Meroth, promovierter Elektroingenieur, arbeitet seit 2003 als Professor für Informatik und Informationssysteme im Automobil an der Hochschule Heilbronn, nachdem er zuvor sieben Jahre bei einem großen Automobilzulieferer in der Entwicklung tätig war.
Petre Sora, Master of Science in Elektronik, arbeitete als Elektronikentwickler bevor er 2002 eine Stelle als wissenschaftlicher Mitarbeiter im Bereich Elektronik, hardwarenahe Programmierung an der Hochschule Heilbronn antrat.
Keywords
Elektrotechnik
Elektronik
Arduino
Netzwerke
AVR-Familie
CAN
Automotive
Automobiltechnik
Atmel
Digitaltechnik
Embedded Systems
Entwicklung
Funk
LIN
Mikrocontroller
Progammierung C
Senstortechnik
digital
Bibliographic information
Reviews
"... Das Buch richtet sich an Studierende sowie ambitionierte Amateure." (SPS Magazin, Heft 7, Juli 2018)