The Effects of Framing in Gamification
A Study of Failure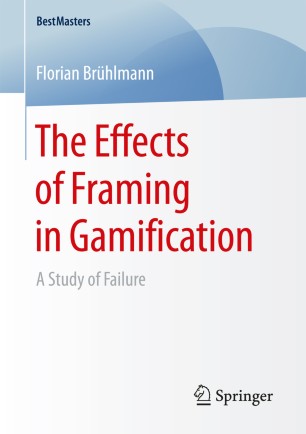 About this book
Introduction
The author shows that – contradicting the findings of Lieberoth (2015) – simply framing an activity as a game does not increase intrinsic motivation of the participants in a difficult puzzle task. Moreover, for participants who failed at the puzzle, it does not make any difference in terms of intrinsic motivation whether it was framed as a task, a meaningful task, a game or a test of cognitive abilities. However, perceived value of the activity and satisfaction of the need for autonomy were identified as significant predictors for completing additional rounds of the task. This lends support for the importance of the voluntariness and meaningfulness of the task to keep people engaged in gamification.
Contents
The Perspective of Self-Determination Theory

The Role of Context in the Perception of Feedback

Failing and Uncertainty in Games

Two Experiments Testing the Effects of Framing on Motivation

Implications for Theory and Design of Gamification

Target Groups

Lecturers, students and practitioners in the fields of psychology, information technology and design

About the Author
Florian Brühlmann is PhD student at the HCI research group at the University of Basel, Switzerland. He is a trained psychologist with special emphasis on Human-Computer Interaction. His research interests include player experience research, questionnaire development and statistical methods for human-computer interaction research.
Keywords
Player experience
Self-determination theory
Motivation
Logistic regression
Feedback
Crowdsourcing
Bibliographic information
DOI

https://doi.org/10.1007/978-3-658-16926-8

Copyright Information

Springer Fachmedien Wiesbaden GmbH 2016

Publisher Name

Springer, Wiesbaden

Print ISBN

978-3-658-16925-1

Online ISBN

978-3-658-16926-8