The Politicization of Ethnicity as Source of Conflict
The Nigerian Situation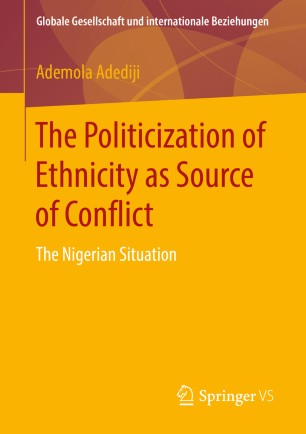 About this book
Introduction
In view of the explosion of violent conflicts in many parts of the world and the hasty, but prevailing, assumption that ethnicity is the source of these conflicts, this book is encompassed to highlight, describe and examine how ethnicity is politicized in many of these current conflicts. By deploying the instrumentalist approach and the theory of identity and difference in ethnicity, the author identifies the actors involved and depicts how religion is exploited as an instrument of division by reflecting it on the Nigerian situation, exploring the examples of the Jos conflicts and the Warri Crisis within a twenty years period, 1990 to 2010.
The Contents
The Dynamics of the Politicization of Ethnicity as the Cause of Conflicts in Nigeria

Religious Crises: Shedding of Blood, Killings and Terrorism in God's Name

The Politics of Terror and Islamization Process of Boko Haram

Multinational Firms and Conflicts: Failure of Corporate Social Responsibility

Case Studies: Introduction of Contemporary Jos Conflicts and Warri Crises

Target Groups
Lecturers and students of Political Science, Conflict Studies, International Relations, Religious Studies, Ethnology, African Studies, Governance, Migration Studies, Economics and History

Employees of International Organizations: United Nations (UN), OECD, the Commonwealth, GIZ, Conflict and Peace NGOs, Religious Institutions

The Author
Ademola Adediji is a Senior Research Fellow at the Department of International Relations and European Affairs at the University of Cologne.
Keywords
Colonialism
Environmental Degradation
Resource Curse thesis
Rentier state theory
Terrorism
Boko Haram
Multinational Oil Corporations (MNOCs)
Bibliographic information