Transitional Justice in Post-Revolutionary Tunisia (2011–2013)
How the Past Shapes the Future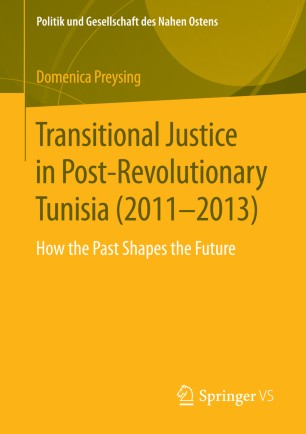 About this book
Introduction
Domenica Preysing offers a critical reading of "transitional justice" that focuses on political dynamics in post-revolutionary Tunisia, from the ouster of president Ben Ali in January 2011 until the adoption of transitional justice bill in December 2013. She explores the role, structure and characteristics of evolving transitional justice policy discourse to provide a better understanding of how, by who, and to what effect the policy label "transitional justice" is progressively filled with meaning. She shows that conflicting interpretations of both the past and the present have been both deeply embedded in and an expression of the dynamic context of domestic political transformation, as old and new elites struggle over the political identity and direction of post-Ben Ali Tunisia.
Contents
Transitional Justice Discourse in Transition
Post-structuralist Political Discourse Theory
From Discourse Theory to Discourse Analysis
A Brief Chronology of Political Transition in Tunisia
"Transitional Justice" in Political Transition
Lustration: The Discursive Struggle over Political Exclusion
Reparations: The Discursive Struggle for Recognition
Target Groups
Researchers and students in political science and Middle East Studies
Practitioners in the field of foreign policy and development cooperation
The Author
Domenica Preysing has spent several years working in development policy, research and consulting with a special focus on the Middle East.
Keywords
Discourse analysis
Post-structuralist Political Discourse Theory
Discourse Theory
Political Transition in Tunisia
Political Exclusion
Bibliographic information