Coronary Heart Surgery
A Rehabilitation Measure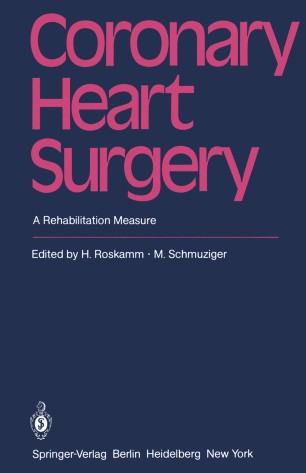 Table of contents
Controversial Points in Selection of Patients for Surgery

Controversial Points in Surgical Tactics and Techniques

Indications for and Results of Aneurysmectomy

Anesthesia and Myocardial Protection in Coronary Heart Surgery

Functional Results of Coronary Heart Surgery

What Can be Done to Improve Long-Term Results and Vocational Rehabilitation?
About these proceedings
Introduction
On the occasion of the inauguration of the Department of Heart Surgery at the Rehabilitation Center in Bad Krozingen, we held under the aus­ pices of the European Society of Cardiology an International Symposium on March 17 to 18, 1978 with the topic: . "Coronary Heart Surgery - a Rehabilitation Measure" This book contains the papers given at that time. The editors of this book, together with the other members of the sci­ entific committee - H. Denolin from Brussels, Ch. Hahn from Geneva, and F. Loogen from DUsseldorf - aimed at selecting controversial top­ ics as well as speakers representing different viewpoints. Thus avoid­ ing portrayal of an image of a world of coronary bypass surgery in which all problems have found a solution. In keeping with the topic of the meeting, special emphasis was drawn to the long-term functional results of aortocoronary bypass surgery; symptomatic imprQvement be­ ing, in most patients, significant enough and lasting for at least some years, thus allowing the patients to return to work. However, a combination of social, economic, and psychological factors may hamper optimal rehabilitation, as can be seen from some of the following papers. The incorporation of heart surgery into a rehabilitation center - being the motif of this symposium - may hopefully stimulate a global approach to cardiac rehabilitation which includes surgical, medical, psychological, vocational, and social rehabilitation mea­ sures. Bad Krozingen, January 1979 H. Roskamm M. Schmuziger Table of Contents 1.
Keywords
Koronarerkrankung
aneurysm
aneurysmectomy
aortocoronary bypass
bypass
cardiology
heart
myocardial protection
rehabilitation
surgery
Bibliographic information
DOI

https://doi.org/10.1007/978-3-642-67295-8

Copyright Information

Springer-Verlag Berlin Heidelberg 1979

Publisher Name

Springer, Berlin, Heidelberg

eBook Packages

Springer Book Archive

Print ISBN

978-3-642-67297-2

Online ISBN

978-3-642-67295-8