© 2015
Springer Handbook of Marine Biotechnology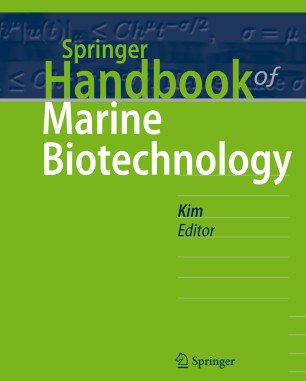 Table of contents
About this book
Introduction
The Springer Handbook of Marine Biotechnology provides, for the first time, a complete and consistent overview of the methods, applications, and products of marine biotechnology. Since a large portion of the surface of the earth is covered by the oceans and more than 80% of living organisms are found in aquatic ecosystems, they constitute a rich reservoir for various chemical materials and (bio-)chemical processes. Marine biotechnology studies these biochemical materials and processes from marine sources and makes them available to applications as pharmaceuticals, cosmeceuticals or nutraceuticals as well as for the production of bioenergy and biofuels. Edited by Prof. Dr. Se-Kwon Kim, a renowned expert with a longstanding experience, and including over 60 chapters from leading international scientists, this handbook is a major authoritative desk reference for everyone interested or working in the field of marine biotechnology and bioprocessing.
The handbook is divided into 10 parts. Part A: Marine Flora and Fauna. Part B: Tools and Methods in Marine Biotechnology. Part C: Marine Genomics. Part D: Marine Algal Biotechnology. Part E: Marine Microbiology and Biotechnology. Part F: Marine-Derived Metabolites. Part G: Application of Marine Biotechnology. Part H: Bioenergy and Biofuels. Part I: Biomedical Applications. Part J: Industrial Applications.
Key topics include:
- Marine flora and fauna
- Tools and methods in marine biotechnology
- Marine genomics
- Marine microbiology
- Bioenergy and biofuels
- Marine bioproducts for industrial applications
- Marine bioproducts for medical and pharmaceutical applications
- and many more...
Keywords
Biomedical Application of Marine Biotechnology
Industrial Application of Marine Biotechnology
Marine Algal Technology
Marine Bioenergy and Biofuels
Marine Biomaterials
Marine Derived Metabolites
Marine Microbiology
Marine Natural Products
Marine Pharmaceuticals, Nutraceuticals and Cosmeceuticals
Tools and Methods in Marine Biotechnology
Bibliographic information
Reviews
"Marine Biotech's key aims is 'to be useful as readable desk reference book to give a fast and comprehensive overview and easy retrieval of essential reliable key information, including tables, graphs, and bibliographies.' … It is therefore important to have books such as Marine Biotech to present the drawing together of information about specific research to give the non-specialist that necessary topical overview and updating." (Nigel Chaffey, Annals of Botany, aobblog.com, April, 2016)