© 2004
Mobile Datenbanksysteme
Architektur, Implementierung, Konzepte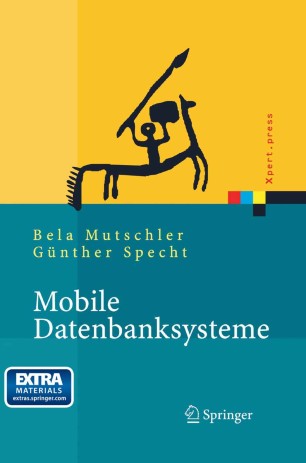 About this book
Introduction
Die zunehmende Leistungsfähigkeit mobiler Endgeräte wie z.B. PDAs oder Smartcards erlaubt den effizienten Einsatz mobiler Datenbanktechnologie im Rahmen einer umfassenden Integration mobiler Anwendungen in bestehende heterogene Systemlandschaften. Charakteristika des mobilen Umfeldes sowie beschränkte physische Ressourcen mobiler Geräte stellen spezifische Anforderungen an Architektur und Implementierungskonzepte mobiler Datenbanksysteme. Das Buch stellt eine fundierte Einführung in generische Architekturen und konkrete Implementierungskonzepte mobiler Datenbank- und Informationssysteme dar und liefert einen Überblick über existierende Technologien und Konzepte. Spezifische Replikationsverfahren werden behandelt, klassische Replikationsverfahren auf ihre Eignung im mobilen Umfeld untersucht. Mobile Transaktionsmodelle und spezielle Implementierungskonzepte für Pico-Datenbanksysteme werden vorgestellt, die besonders effiziente Speicherkonzepte und Methoden der Anfrageausführung benötigen. Anhand von marktreifen kommerziellen Datenbanksystemen - wie IBM DB2 Everyplace, Oracle 9i Lite, Sybase SQL Anywhere Studio und Tamino Mobile Suite - werden schwerpunktmäßig realisierte Anwendungsarchitekturen und Implementierungskonzepte verdeutlicht.
Keywords
.NET
Anfrageverarbeitung
Architektur
Architekturen
Datenbank
Datenbanksystem
Datenbanksysteme
Implementierung
Informatik
Informationssystem
Java
Leistung
Programmierung
Technologie
Transaktionen
Bibliographic information
Reviews
Aus den Rezensionen:
"… Mit dem Buch 'Mobile Datenbanksysteme' liegt … eine vielversprechende Alternative vor, welche Konzepte, Systeme und Praxis in diesem Gebiet in einem integrierten Werk vereinigt. … In kompakter und verständlicher Form wird hier der 'State of the Art' in den genannten Gebieten vermittelt … Zusammenfassend bleibt festzustellen, dass 'Mobile Datenbanksysteme' ein wertvoller Leitfaden … ist, der sowohl die Grundlagen des Gebietes allgemein als auch die spezifischen Aspekte der verschiedenen Systeme übersichtlich und leicht verständlich beschreibt. … es … bietet Entscheidern in Unternehmen eine Orientierungshilfe ..."
(Prof. Dr. Claudia Linnhoff-Popien, in: Informatik Spektrum, 2005, Vol. 28, Issue 4, S. 343)