© 2010
Handbook of Applied Spatial Analysis
Software Tools, Methods and Applications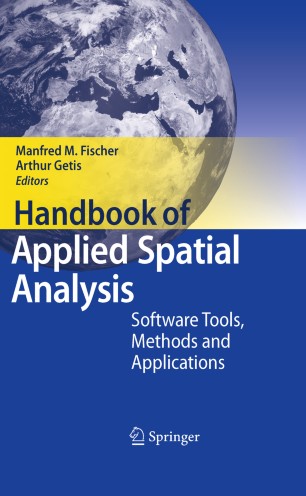 About this book
Introduction
Spatial data are an important source of scientific information. The development of high capacity and fast desk and laptop computers and the concomitant creation of geographic information systems has made it possible to explore georeferenced or mapped data as never before. This Handbook summarizes, explains, and demonstrates the nature of current models, methods, and techniques particularly designed for the analysis of spatial data. The book is designed to be a desk reference for all researchers just getting into the field of spatial data analysis as well as for seasoned spatial analysts. Relevant references are given whenever possible to direct researchers to the most useful writings on the subject.

Unlike most compendia of this nature, the book starts out by exploring the available software for spatial analysis. We focus on the tools that make analysis possible. The volume then describes briefly but clearly the many techniques embodied in the fields of exploratory spatial data analysis, spatial statistics, geostatistics, and spatial econometrics. In addition, attention is given to the methods used for the analysis of remotely sensed data. Finally, a number of example sections are included that demonstrate the application of spatial analysis in the economic, environmental, and health sciences. The wide range of approaches described helps readers better understand their data and the techniques needed for spatial analysis.

The volume features contributions from the very best scholars in the field. Their explanations are able to communicate the fundamental ideas of their subject area succinctly and accessibly.
Keywords
ArcGIS
Geoinformationssysteme
Monitoring
SAS
atlas
clustering
data analysis
geographic data
statistical software
Bibliographic information
Reviews
From the reviews:
"The Handbook of Applied Spatial Analysis provides an important summary of, and gateway into, the rapidly developing field of spatial analysis. It aims to provide both a useful guide for researchers at all levels in spatial analytic fields and a basis for more in-depth research. … certainly fulfils the expectations set out in its blurb. It provides a thorough … insight into contemporary spatial analysis that many with an interest in this field will find useful." (James Cheshire, Environment and Planning B: Planning and Design, Vol. 37, 2010)
"It provides a comprehensive introduction to a variety of problems and methods that may be beneficial to students and researchers who intend to learn and apply spatial analysis techniques in their studies and/or research. More importantly, the book provides valuable breadth and depth in its treatment of many topics. … suitable for readers without substantial prior knowledge of spatial analysis. A book with such a combination of topics and qualities is a pleasant and valuable addition to the rich literature in this area." (Changshan Wu, Journal of Regional Science, Vol. 52 (2), 2012)
"The editors have done an excellent job to bring together conceptual knowledge and application pursuits while empowering readers with the information they need to find these resources and try some of the included techniques using the examples to guide them. The book will be attractive to higher level students and professionals … . There are not many books as up-to-date with such a wide coverage of spatial analysis tools and techniques along with supporting resource information." (Jeff Thurston, Sensors & Systems, July, 2010)