© 2008
Industrial Project Management
Planning, Design, and Construction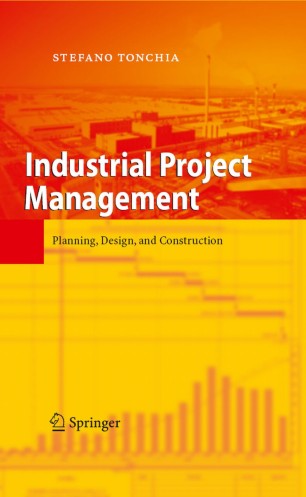 Table of contents
About this book
Introduction
PICTURE Stefano Tonchia, Ph.D., is Professor of Innovation & Project Management at the University of Udine, Italy. He is the Dean of the School of Project Management at Alenia Aeronautica, the Italian Aeronautics Company. He has written many articles on international journals, and published several books, including "Process Management for the Extended Enterprise" (Springer, 2004). He works jointly with major international Institutions, Universities, and leading Companies. His research interests include Project Management, Business Process Reengineering, Performance Management and Measurement.
www.diegm.uniud.it/tonchia
Preface by Russell D. Archibald, founder of the Project Management Institute (PMI), considered one of the fathers of modern Project Management since his early book on Network Diagrams (1967).
Foreword by Gianpietro Benedetti, President and CEO of the DANIELI Group.
DANIELI is one of the three largest worldwide suppliers of equipment and plants to the metals industry www.danieli.com
This book describes – in a precise but practical way – the most recent principles and techniques of project management, at the highest international standards, with a fully company-wide, process-based, multi-project approach.
It is unique because of the integration of project management fundamentals with the practices of international contracting, which characterize planning, design and construction of large works (such as plants and machinery) in the industrial sectors.
The rigorous academic approach is mixed with the managerial contribution of Danieli, one of the largest worldwide suppliers of equipment and plants to the metals industry. The project management of the latter is described alongside how it can be effectively applied to win and manage large international contracts.
«There are very few, if any, books in the project management field that describe in detail a company-wide approach to project management within a large, multi-national corporation, with the amount of detail and giving the useful, practical understanding of the underlying principles and specific processes and practices that are presented here». Russell D. Archibald
Keywords
Contract Management
Engineering-to-order
design
management
multi-national corporation
organization
planning
product design
project management
quality
quality management
risk analysis
risk management
strategy
time management
Bibliographic information