International Humanitarian Law Facing New Challenges
Symposium in Honour of KNUT IPSEN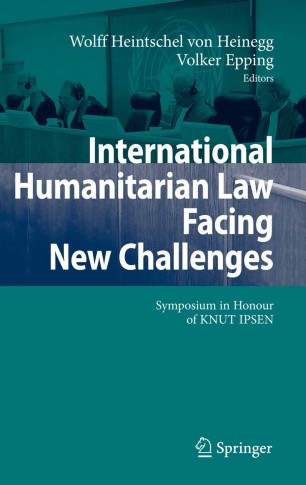 Table of contents
About these proceedings
Introduction
Recent armed conflicts, whether international or non-international in character, are in many respects characterized by a variety of asymmetries. These asymmetries may be overstressed, sometime even abused, and ultimately virtually meaningless. Still, either as such or in conjunction with other developments, they seem to challenge the law of armed conflicts or: international humanitarian law. These challenges may very well compromise the very function of that body of law, which is to mitigate as far as possible the calamities of war. Thus, the law of armed conflict may be deprived of its fundamental function as an order of necessity because its legally binding directives will increasingly be disregarded for the sake of allegedly superior values.
In order to discuss these and other questions a most distinguished group of experts in the field of the law of armed conflicts gathered in Berlin in June 2005. The goal of that colloquium, which marked the 70th birthday of Knut Ipsen, was to find operable solutions for problems and challenges the contemporary law of armed conflict is confronted with.
With contributions by Bill Boothby, Michael Bothe, Yoram Dinstein, Knut Dörmann, Charles J. Dunlap Jr., Volker Epping, Dieter Fleck, Steven Haines, Wolff Heintschel von Heinegg, Hans-Joachim Heintze, Rainer Hofmann, Frits Kalshoven, Stefan Oeter, W. Hays Parks, Michael Schmitt, Torsten Stein, and Andreas Zimmermann.
Keywords
Armed conflict
Asymmetric warfare
Humanitarian Law
International human rights law
International humanitarian law
International terrorism
Ius in bello
Law of Armed Conflict
Private contractors
Proportionality
State responsibility
non-state actors
Bibliographic information