Regulating Global Security
Insights from Conventional and Unconventional Regimes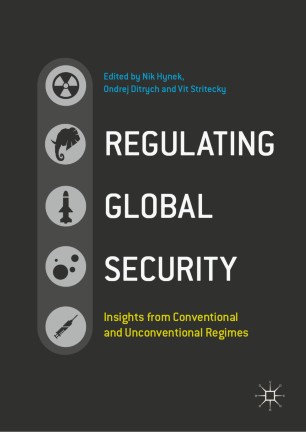 About this book
Introduction
This edited collection presents an innovative approach to global security regimes. Employing both conceptual and empirical studies, the volume examines three empirically-oriented sets of cases: weapons of mass destruction, humanitarian disarmament and unconventional threats. The book combines interrogations of the most prominent prohibition/regulatory regimes while covering WMDs, humanitarian issues and other agendas such as drugs, endangered species and cyber security. It will be of interest to academics and researchers in International Relations and Security Studies.
Nik Hynek is Associate Professor in Theory of Politics and Chair of the Department of Security Studies at the Metropolitan University Prague, Czech Republic.
Ondrej Ditrych is Director of Institute of International Relations Prague and academic fellow at Charles University, Prague, Czech Republic.
Vit Stritecky is Assistant Professor in Security Studies at Charles University, Prague, Czech Republic.
Keywords
security studies
international regimes
global security
international law
regime theorization
nuclear nonproliferation
security in nuclear war
biological weapons
chemical weapons
humanitarian security
small arms and gun control
landmines and munition cluster regimes
international migration control
international drug control
wildlife trade regulatory regime
cybersecurity
cyberweapons
global regulatory regimes
global codes
international security
Bibliographic information