© 2019
The United Kingdom's Defence After Brexit
Britain's Alliances, Coalitions, and Partnerships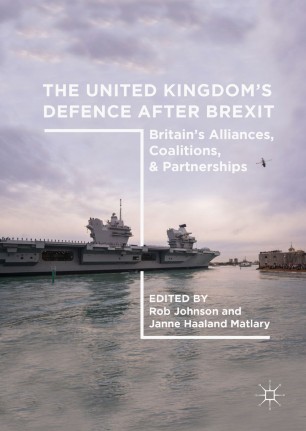 About this book
Introduction
This new work examines how the European states, the United Kingdom and the United States will approach the defence and Security of Europe in the medium and long-term. It is often assumed that Brexit, the United Kingdom's departure from the political and commercial European Union, would affect defence and security profoundly, but the basis of that assumption is rarely analysed. Bringing together a panel of specialists from Europe, the UK, the EU, and the United States, this volume evaluates the relative position they play in Europe's defence in the era of Brexit. It examines the arguments, challenges, and problems in European defence, and tests them against the residual commitment, cohesion, and capabilities of the states concerned, including Anglo-French military co-operation, the silent Anglo-German partnership, the US-UK Special Relationship, and the emergent Northern Group.
Robert Johnson is the Director of the Changing Character of War research centre, and Senior Research Fellow at Pembroke College, University of Oxford
Janne Haaland Matlary, is from the Department of Political Science, University of Oslo and is Adjunct Professor at the Norwegian Defence Command and Staff College.
Keywords
UK defence policy
EU referendum
Brexit
UK defence reviews
UK defence capability
NATO
counter-terrorism
Iraq legacy
information warfare
cyber threats
Special Relationship
flexilateralism
Russia
migration
common defence policy
Nordic-Baltic Region
Joint Expeditionary Force
Joint Amphibious Response
British leadership
Bibliographic information