Will Brexit Damage our Security and Defence?
The Impact on the UK and EU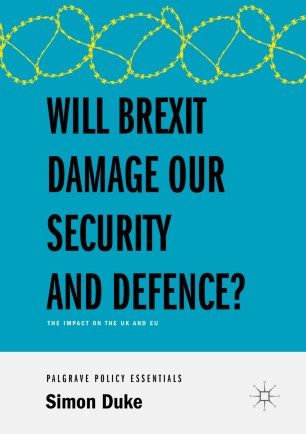 About this book
Introduction
"In a discussion in which emotions and ideology all too often trump reason, Simon Duke brings much-needed clarity. All decision-makers should read this book"
—Sven Biscop, Director of the Europe in the World Programme at the Egmont – Royal Institute for International Relations, Brussels, and Ghent University, Belgium.
This Palgrave Policy Essential considers the security and defence consequences of Brexit for the UK and the European Union. It considers the place of security and defence in the debates leading up to the Brexit referendum as well as in its follow-up. Importantly, the book also traces recent developments in the EU towards what may become a European Defence Union and, in light of this, considers how realistic the UK's aspirations for a unique relationship with the Union are. The book includes a critical analysis of the consequences of Brexit for crisis management, internal security and defence industries in the UK and EU. It concludes with an examination of the options and legal tools available to both parties as they frame their post-Brexit security and defence relations.
Simon Duke is Professor at the European Institute of Public Administration (EIPA), Maastricht, Netherlands and a Senior Research Fellow at Maastricht University. Prior to EIPA he held positions at the Stockholm International Peace Research Institute, the Mershon Center (Ohio State University), Pennsylvania State University, both USA, and the Central European University, Hungary. He was also a NATO Fellow. He is the author of several monographs on European and transatlantic foreign and security issues and has published on similar themes in numerous academic journals. He is also co-Executive Editor of the Journal of European Integration.
Keywords
European strategic culture
Liberal interventionism
Security cooperation
Nation state
NATO
EU27
Common Security and Defence Policy
Industrial interests
Aerospace
UK-US industrial ties
Brexit
Security
Defence
Brexit negotiations
Florence speech
EU Global Strategy
European Defence Union
Ministry of Defence
Borders
counterterrorism
Bibliographic information