Sustainable Electricity II
A Conversation on Tradeoffs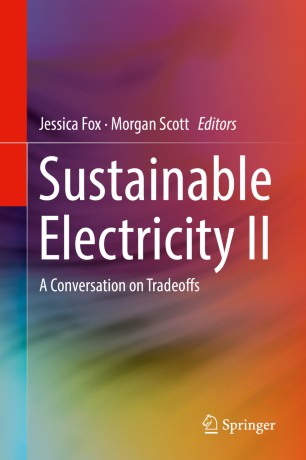 About this book
Introduction
Realities of power company choices, regulatory boundaries, and stakeholder approvals.

Expectations of the responsible investor, environmental advocate, and Silicon Valley companies including Google, Facebook, and Stanford University.

Surprising stories show how creativity, innovation, and planning can resolve some of the toughest choices facing electric power companies today, although not in all cases.

Building on the first volume, Sustainable Electricity: Case Studies from Electric Power Companies in North America (Fox, 2016. Springer), this book dives headfirst into the economic, environmental, and social tradeoffs power companies face as they strive to be sustainable. With more than 40 contributing experts, chapters include first-hand power company stories, case studies of leading Silicon Valley organizations; socially responsible investor contemplations; environmental advocacy arguments; and regulatory realities. The book provides a window into the choices companies make, the tradeoffs stakeholders accept, and the bottom line that comes with producing sustainable electricity. It will be an important resource that will accelerate collective thoughts on what 'sustainable electricity' means and what needs to be considered when the "everyone wins" outcome is elusive.
"People have been able to fish, hike, camp and boat on a beautiful AEP property that supports recreational activities for many years. Now AEP has to generate income from this property. Do we build roads and drill to extract the natural gas? Do we sell the timber and keep the property? Do we sell the whole thing? What about the fish, deer and other wildlife? Tradeoffs will be made, and not everyone will like them."
Tim W. Lohner, Ph.D., Environmental Specialist, American Electric Power. (Chapter 3)
"Companies are demanding access to clean energy and investors are pressing companies to source 100% renewable. It is essential that utilities develop a comprehensive strategy to reduce climate impact, and clearly articulate the plan and their progress. Customers and investors want to see this progress, and utilities need to develop the right model for their particular business."
John Streur, CEO, Calvert Research & Management (Chapter 4)
"At Chevron, we are continually examining the tradeoffs as we work to improve our energy efficiency and reduce our environmental footprint. The complexity of our global, shared challenge to electrify the world without undue compromise to the integrity of our planet is one that will require global action. The experiences and perspectives detailed in this book are important to understand as we collectively work towards a sustainable energy future. The one billion plus are counting on us."
Kirsten S. Thorne, Global Issues and Public Policy Manager, Chevron (Forward)'
Keywords
electric power companies
Sustainable electricity
trade-off stories
energy-water nexus
regulatory perspective
Socially responsible investing and electricity
future power systems
sustainability challenges
climate change
Bibliographic information
DOI

https://doi.org/10.1007/978-3-319-95696-1

Copyright Information

Springer International Publishing AG, part of Springer Nature 2019

Publisher Name

Springer, Cham

eBook Packages

Energy

Print ISBN

978-3-319-95695-4

Online ISBN

978-3-319-95696-1