'Moving towards Risk' - A Melancholic Story of Punjab Satluj Floodplain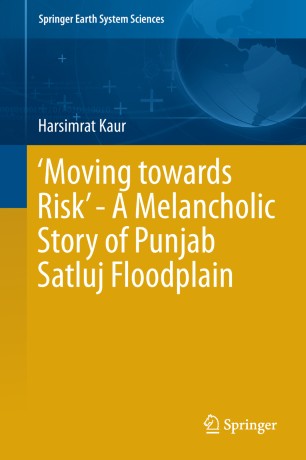 About this book
Introduction
This book explains the tragic tale of the Satluj floodplain since its inception. As a landscape this floodplain entity evolves and sets a niche to distinctive natural and cultural aspects. The historical reconstruction of the landscape transformation depicts the excessive human encroachment and development activities which leads to more than fifty percent of landscape transformation. Data set layers were generated in a geospatial environment, with the use of multiscale and multitemporal satellite imageries, empirical field verification, and ancillary data input. An integrated landscape model was hence formed in order to identify the causal links between natural and cultural aspects.
The author shows a landscape transformation matrix and change detection maps to explain the spatial trends and patterns of land use and land cover change. Pixel wise land use and land cover gain-loss algorithm were identified and measured for a selected time period. Changing spatial pattern of land cover to land use ratio are explained with underlying local to regional level causes. The author thoroughly explains the satellite image interpretation and related methodology.
This book provides the detailed transition journey of landscape conversion from resource rich natural entity to a human dominated 'hazardscape'. It also explains how the expansion of population and related activities in the close vicinity of an active floodplain accentuates the problem of flood risks and how it affects the human and livestock life and creates economic loss. The author maps and explains the vector and magnitude of increased human pressure on the landscape and its adverse ecological implications, and describes issues with reference to the hazard status of the Punjab Satluj floodplain, including increased flood risk, increased pressure on agricultural land and depletion of resources, loss of biodiversity, qualitative and quantitative loss to surface and sub-surface water, and soil degradation (soil erosion, waterlogging and soil loss).
Recommendations are provided with a detailed provision of potential applications with the underlying agenda of further conversion of this ecologically highly vulnerable flood prone 'hazardscape' to a Green Habitat.
This book consist of two major themes: land use/land cover change and floodplain. The author answers all the geographical questions (what, where, when, why and how) related with both themes and provides an outlook to potential future prospects. The book is targeted at stakeholders, students, researchers and policy makers to optimize their interest and to guide them towards a positive charge in sustainable resource management through suitable and best possible sustainable utilization of landscape.
Keywords
Satluj Floodplain
Landscape Transformation
Transformational Matrix
Land use and Land Cover Change Detection
Physiological Density
Soil Loss
Soil Erosion
Resource Depletion Rate
Green Habitat
Bibliographic information
DOI

https://doi.org/10.1007/978-3-319-95297-0

Copyright Information

Springer Nature Switzerland AG 2019

Publisher Name

Springer, Cham

Print ISBN

978-3-319-95296-3

Online ISBN

978-3-319-95297-0

Series Print ISSN

2197-9596

Series Online ISSN

2197-960X