© 2019
Nonmarket Strategy in Business Organizations
A Global Assessment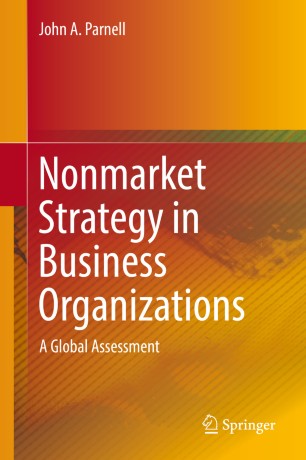 About this book
Introduction
This book explores nonmarket strategy (NMS) in firms by invoking economic, political and philosophical perspectives. Featuring data from the USA, the UK, India, China, Mexico and other countries, the author links NMS to economic freedom, regional development, corruption and other national factors.
Nonmarket strategy (NMS) refers to any part of a firm's strategy that seeks to generate superior performance through means not directly associated with market activity, such as lobbying legislators, colluding with rivals to erect industry entry barriers and pursuing direct business-government partnerships. Decades ago, nonmarket factors comprised a minor, peripheral consideration in organizational strategy. Today, NMS is central to strategy development and execution. This phenomenon is driven by both corruption in emerging economies and cronyism in the developed world. Scholarly interest in NMS continues to increase and while much is known about the topic, some core questions still remain such as: Are there different drivers for and implications of proactive NMS versus defensive NMS? How do national environments influence firm decisions to pursue NMS? The data presented in the book explores many of these questions.

Providing a comprehensive, multidisciplinary analysis that includes elements of management, economics, philosophy and social sciences, this book is beneficial for scholars, practitioners, students, academics and policy makers interested in NMS.
Keywords
Non-Market Strategy (NMS)
State-Owned Enterprises (SOEs)
Corruption
NMS in Ghana
NMS in Mexico
NMS in China
NMS in the UK
NMS in the USA
Strategic Political Management
Corporate Political Analysis
Bibliographic information