© 2019
Analyzing Digital Discourse
New Insights and Future Directions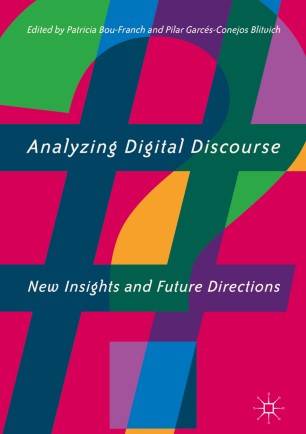 Table of contents
About this book
Introduction
'Taking a critical and situated perspective on social media platforms and communities, this cutting-edge volume lays down exciting new paths for future research on multimodality, the mediated co-construction of identity and sociability; and the discursive (re)construction of ideologies online. An absolute must-read for anyone interested in the development of the field of digital discourse studies.'
—Caroline Tagg, the Open University, UK
'Analyzing Digital Discourse includes an exciting range of studies that go beyond the foci of many earlier studies: interrogating examples of digital discourse that range from parody Amazon reviews, profiles on LinkedIn to multi-semiotic data such as sexting messages, memes and emoji.'
—Ruth Page, University of Birmingham, UK
'Examining issues at the forefront of current research, it offers new insights in global patterns and local details of digital discourse.'
—Jannis Androutsopoulos, Universität Hamburg, Germany
This innovative edited collection presents new insights into emerging debates around digital communication practices. It brings together research by leading international experts to examine methods and approaches, multimodality, face and identity, across five thematically organised sections. Its contributors revise current paradigms in view of past, present, and future research and analyse how users deploy the wealth of multimodal resources afforded by digital technologies to undertake tasks and to enact identity. In its concluding section it identifies the ideologies that underpin the construction of digital texts in the social world. This important contribution to digital discourse studies will have interdisciplinary appeal across the fields of linguistics, socio-linguistics, pragmatics, discourse analysis, gender studies, multimodality, media and communication studies.

Patricia Bou-Franch is Professor of English at the University of Valencia, Spain.
Pilar Garcés-Conejos Blitvich is Professor of English at the University of North Carolina at Charlotte, USA.
Keywords
digital communication
computer-mediated communication (CMC)
digital discourse studies
computer-mediated discourse analysis (CMDA)
Diachronic approaches
Synchronic approaches
Multimodality
Identity
social media discourse
cyberpragmatics
Emoticons
online health communication
self-branding
facework
cyberculture
sociolinguistics
applied linguistics
politeness
language ideology
memes
Bibliographic information
Reviews
"The work under review is a timely and excellent contribution to the field of digital discourse analysis. Its new approach is of great importance for the future development of digital practice research." (Zhiyi Wu, Pragmatics and Society, Vol. 11 (3), 2020)
"It serves as an excellent resource for newcomers like undergraduate and graduate students interested in learning more about digital discourse, for general linguistic researchers exploring new territory, and for experienced digital discourse researchers looking to extend their research scope. Furthermore, it might help individuals living in this digital age to cope with digital communication and build harmonious interpersonal relationships with others online." (Xiaoyu Lai, International Journal of Communication, Vol. 14, 2020)