Neuropsychiatric Systemic Lupus Erythematosus
Pathogenesis, Clinical Aspects and Treatment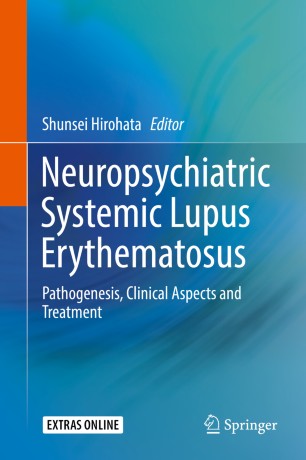 About this book
Introduction
Neuropsychiatric manifestation in systemic lupus erythematosus (NPSLE) is one of the most recalcitrant complications of the disease. According to the 1999 ACR nomenclature and case definitions, diffuse psychiatric/neuropsychological syndromes in NPSLE (anxiety disorder, acute confusional state, cognitive dysfunction, mood disorder, psychosis) (diffuse NPSLE) present psychiatric manifestations unlike neurologic syndromes (focal NPSLE) originating from focal CNS lesions, such as cerebrovascular disease, demyelinating syndrome, headache, aseptic meningitis, chorea, seizures and myelopathy. A number of studies have reported that diffuse NPSLE is usually associated with the presence of autoantibodies against neuronal cells in serum as well as in cerebrospinal fluid (CSF). Moreover, IL-6 has been shown to be elevated in CSF of patients with diffuse NPSLE.
Recently, it has been demonstrated that the severity of blood-brain barrier damages plays a crucial role in the development of acute confusional state, the severest form of diffuse NPSLE through the accelerated entry of larger amounts of autoantibodies to NMDA receptor subunit NR2 into the CNS. Since the importance of autoantibodies in the NPSLE has been now evident, such an aggressive treatment, especially B cell depleting therapy, would make sense in that it would reduce the levels of pathogenic autoantibodies, leading to a better prognosis of NPSLE.
As far as we know, no single book specifically dedicated to NPSLE alone has been published as yet. As mentioned above, NPSLE constitutes a vastly expanding field of research with increasing numbers of papers published annually. Therefore, we believe that an effort to collect and critically review these publications is invaluable. Such an effort will provide an important contribution to basic researchers as well as clinicians working in the field of neurology, rheumatology, psychiatry and internal medicine fields.
Keywords
epidemiology
genetics
pathology
cytokines
rheumatology
Bibliographic information
DOI

https://doi.org/10.1007/978-3-319-76496-2

Copyright Information

Springer International Publishing AG, part of Springer Nature 2018

Publisher Name

Springer, Cham

eBook Packages

Biomedical and Life Sciences

Print ISBN

978-3-319-76495-5

Online ISBN

978-3-319-76496-2