Policy-Making at the European Periphery
The Case of Croatia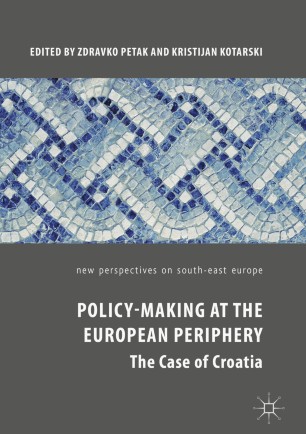 Table of contents
About this book
Introduction
This book examines Croatia's economic and political transformation over the last 30 years. It brings together the best political scientists, macroeconomists and public finance experts from Croatia to provide an in-depth analysis of the Croatian policy-making context and the impact of Europeanization upon its domestic institutional framework. The second part of the book scrutinizes the political economy context and Croatia's long-term macroeconomic under-performance, especially in comparison to other transition economies. The final part explores sectoral public policies, including cohesion policy, education, health, pensions, and local government. The book offers a unique blend of Croatia's political economy framework and public policy analysis.
Zdravko Petak
is Professor of Political Science at the University of Zagreb, Croatia. His research interests are public policy analysis, comparative public policy, European public policy, local politics and political finance. He was president of the Croatian Political Science Association (1999-2002) and editor-in-chief of The Annals of Croatian Political Science Review (2004-2013).
Kristijan Kotarski is Assistant Professor at Faculty of Political Science, University Zagreb, Croatia. His research interests include international political economy, economic policy and the EU. He is head of the Centre for European Studies at Faculty of Political Science, University of Zagreb and also serves professionally as a Director for the University of Zagreb specialist degree "Adaptation to the EU: Project Management, EU funds and EU programs".
Keywords
Croatia
policy-making
clientelism
EU membership
governance
monetary policy
banking regulation
Europeanisation
Croatian politics
lobbying
interest groups
Croatian capitalism
Croatian GDP
Croatian National Bank (CNB)
Croatian health system
Croatian pensions system
actors
policy goals
policy design
captured state
Bibliographic information