Preventing the Proliferation of WMDs
Measuring the Success of UN Security Council Resolution 1540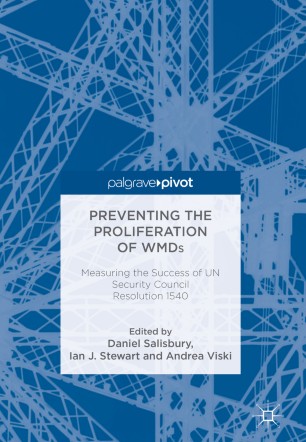 About this book
Introduction
This edited volume provides a fresh analysis for researcher and practitioners regarding United Nations Security Council resolution 1540, the status of its implementation, and its future by providing an original evaluation of progress in implementation and challenges faced during the resolution's first decade. In doing so, the book will consider the resolution's utility as a non-proliferation tool with a view to identifying what further actions are required for the objectives and goals embodied by UNSCR 1540 to be achieved and sustained. The book progresses by exploring the history of the resolution, implementation trends, implementation from a regional perspective, challenges, and future ways forward. The book appeals to a wide readership of scholars, policymakers, and other stakeholders of the 1540 process.
Daniel Salisbury is a Postdoctoral Fellow at the James Martin Center for Nonproliferation Studies (CNS) at the Middlebury Institute of International Studies at Monterey, USA. Before joining CNS Daniel worked at in the Department of War Studies at King's College London (KCL), UK on a series of projects on non-proliferation, export controls and nuclear security.
Ian J. Stewart is a Senior Research Fellow in the Department of War Studies and runs Project Alpha at King's College London, UK. Before joining KCL, Mr Stewart worked for the British Ministry of Defence, where he was an analyst working on issues related to non-proliferation and illicit trade.
Andrea Viski is a Senior Research Associate at Project Alpha, Department of War Studies, King's College London, UK, focusing on strategic trade controls and capacity-building. She previously worked for the European Commission and the Stockholm International Peace Research Institute (SIPRI), Sweden. She is the current editor-in-chief of the Strategic Trade Review.
Keywords
WMDs
UNSC
United Nations Security Council resolution 1540
counter-proliferation
non-proliferation
counter-terrorism
international security
non-state actors
legal history
Kananaskis principles
implementation
1540 matrix
international law
1540 committee
1540 national reports
regionalism
capacity-building
European Union
Non-aligned Movement
legitimacy
Bibliographic information