Institutional Entrepreneurship and Policy Change
Theoretical and Empirical Explorations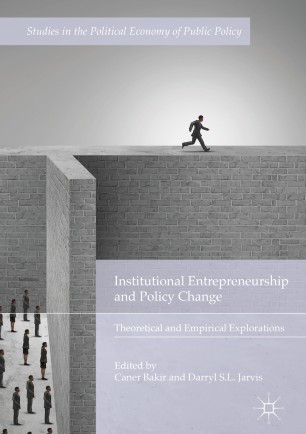 Table of contents
About this book
Introduction
This book is about the role of agents in policy and institutional change. It draws on cross-country case studies. The focus on 'agency' has been an important development, enabling researchers to better understand the causal mechanisms generating institutional change. However, past research has generally been limited to specific intellectual silos or scholarly domains of inquiry. Policy scholars, for example, have tended to focus on the various mechanisms and levels at which agency operates, drawing on institutionalist perspectives but not always actively contributing to institutionalist theory. Institutionalist perspectives, by contrast, have tended to operate at macro-levels of enquiry, embracing the ontological primacy of institutions in processes of isomorphism but not necessarily contributing to or embracing policy perspectives that engage in more granular analyses of policy making processes, implementation, and the instantiation of institutional and policy change. Despite the obvious complementarities of public policy and institutionalist traditions, it is surprising how little collaborative work, or indeed cross fertilization of theory and analytical design has occurred. The core contribution of this volume is thus its focus on agential actors within institutional settings and processes of entrepreneurship that facilitate isomorphism and policy change.
Grounded in variants of institutional theory, especially historical, sociological and organisational institutionalism and policy entrepreneurship literature, this volume contributes to the increasingly important need to bridge institutional and policy literatures in ways that make for greater conceptual and theoretical clarity in understand policy and institutional isomorphism.
Caner Bakir is Associate Professor of Political Science, with a special focus on International and Comparative Political Economy, and Public Policy and Administration at Koc University, Istanbul, Turkey.
Darryl S.L. Jarvis is Professor of Global Studies, Faculty of Liberal Arts and Social Sciences at the Education University of Hong Kong (formally the Hong Kong Institute of Education).
Keywords
Agency
Policy
Insitutions
Institutional change
case studies
institutionalist theory
Meta-theory
Insitutionalization
Entrepreneurship
Social Policy
China
Austria
Israel
Hungary
Political Entrepreneurship
Education Policy
Integration Policy
Innovation
Institutional Entrepreneurship
Policy Change
Bibliographic information