Handbook of Zen, Mindfulness, and Behavioral Health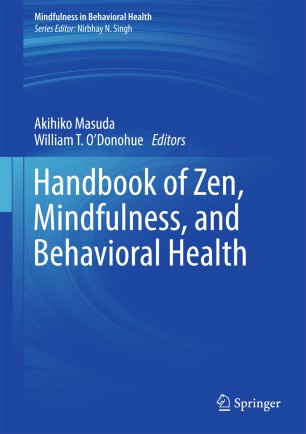 Table of contents
About this book
Introduction
This comprehensive handbook presents a Zen account of fundamental and important dimensions of daily living. It explores how Zen teachings inform a range of key topics across the field of behavioral health and discuss the many uses of meditation and mindfulness practice in therapeutic contexts, especially within cognitive-behavioral therapies. Chapters outline key Zen constructs of self and body, desire, and acceptance, and apply these constructs to Western frameworks of health, pathology, meaning-making, and healing. An interdisciplinary panel of experts, including a number of Zen masters who have achieved the designation of roshi, examines intellectual tensions among Zen, mindfulness, and psychotherapy, such as concepts of rationality, modes of language, and goals of well-being. The handbook also offers first-person practitioner accounts of living Zen in everyday life and using its teachings in varied practice settings.
Topics featured in the Handbook include:
• Zen practices in jails.
• Zen koans and parables.
• A Zen account of desire and attachment.
• Adaptation of Zen to behavioral healthcare.
• Zen, mindfulness, and their relationship to cognitive behavioral therapy.
• The application of Zen practices and principles for survivors of trauma and violence.
The Handbook of Zen, Mindfulness, and Behavioral Health is a must-have resource for researchers, clinicians/professionals, and graduate students in clinical psychology, public health, cultural studies, language philosophy, behavioral medicine, and Buddhism and religious studies.
Keywords
Anger and Zen
Anxiety and Zen
Cultural adaptations of Zen
Dialectical Behavior Therapy and Zen
Dysphoria and Zen
East and West perspectives on Zen
Ethics and Zen
Forgiveness and Zen
Human desire, attachment, and Zen
Japanese culture and Zen
Language and Zen
Psychopathology and Zen
Psychotherapy and Zen
Self-compassion and Zen
Zen Buddhism and behavioral healthcare
Zen and Acceptance and Commitment Therapy
Zen and mindfulness
Zen koans and parables
Zen meditation
Zen, personality, and self
Bibliographic information
DOI

https://doi.org/10.1007/978-3-319-54595-0

Copyright Information

Springer International Publishing AG 2017

Publisher Name

Springer, Cham

Print ISBN

978-3-319-54593-6

Online ISBN

978-3-319-54595-0

Series Print ISSN

2195-9579

Series Online ISSN

2195-9587