The Russian Challenge to the European Security Environment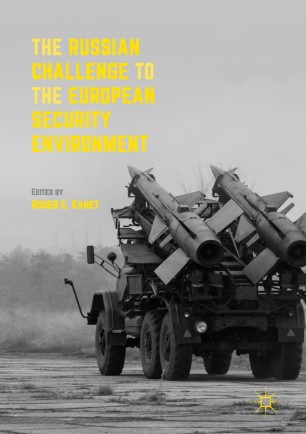 Table of contents
About this book
Introduction
"This volume pulls together a group of experts from both Russia and the West to examine the factors that have led – some would say inexorably - to the current confrontation between Putin's Russia and the West. And even if we prefer not to call it a 'new' cold war we can all agree that the positive relationship that many looked forward to after 1991 has soured badly. Whether or not the new US president can 'reset' the relationship remains to be seen. But perhaps one place he might think of looking first to get him up to speed on modern Russia and its troubled relationship with the West might be Roger Kanet's terrific collection."
Michael Cox, Founding Director of LSE IDEAS, UK
"In this excellent book, noted specialists from Russia, Europe and the United States trace the evolution of post-Cold War tensions between Russia and the West, and detail how the Ukrainian crisis thrust these conflicting interests into sharp relief. Through a series of miscalculations—and misunderstandings—Russia and NATO now appear closer to military conflict than at any time in the past three decades. The authors of this timely collection provide a judicious and sober assessment of what many have called the new Cold War. Highly recommended."
Charles E. Ziegler, University of Louisville, USA
Roger Kanet, a respected expert on the Soviet Union and post-Soviet Russia, has assembled a stellar team of scholars, from Russia and the West, to examine Russia's policy toward Europe. The individual chapters offer well-researched, provocative, and contrasting assessments, using theoretical frameworks ranging from realism to constructivism. Russia's annexation of Crimea and support for the rebellion in Ukraine's east have ignited a heated debate over the factors shaping Russian policy in Europe. That makes this superb volume particularly timely.
Rajan Menon, City University of New York, USA
Roger E. Kanet is Professor of Political Science at the University of Miami. He has also taught at the University of Kansas and the University of Illinois at Urbana-Champaign.
Keywords
Eurasia
Geoeconomics
Putin
Russian Federation
Ukraine
Bibliographic information