Citizens, Europe and the Media
Have New Media made Citizens more Eurosceptical?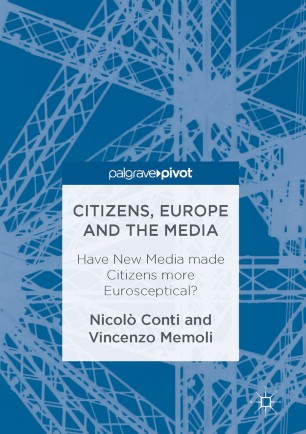 About this book
Introduction
'Conti and Memoli make a very compelling argument that citizens' attitudes towards the European Union are affected by their media diets and that social media may be contributing to the diffusion of Euro-skeptic views. This is a path-breaking contribution and a must-read for anyone who is interested in media effects and the future of European integration.'
- Cristian Vaccari, Royal Holloway University of London and University of Bologna

'This valuable and insightful book investigates the relationship of public Euroscepticism to media. They show that with the advent of "Web 2.0", the first generations of 'netizens' and social networkers have been more inclined to negative sentiments regarding the EU, a fascinating but disturbing phenomenon that has significant implications and consequences for the future of the European Union.'
- Kenneth Benoit

This volume presents a highly comprehensive analysis of citizens' use of media and attitudes towards the EU. It shows that the media have a definite, but differentiated, impact on citizens' attitudes. A broad use of media positively influences support for the EU, as it refines citizens' cognitive capabilities and understanding of the European reality. However, this work shows that prevalent use of online media serves to channel more critical attitudes and disaffection for the EU. A negative climate, particularly on the rise on the Internet and among the young and well-educated generations of active users, could influence the context where the most important political decisions on the EU are taken. In this wide-ranging text, readers will learn how this study could give a completely new perspective to EU development that, in the past, has always been about creating an ever closer union. This book will be of importance to researchers and scholars who are interested in the way that the EU's path might be more difficult in the future if collective action through the Internet becomes a major challenge.
Nicolò Conti is Associate Professor of Political Science at the Unitelma Sapienza University of Rome, Italy. His main research focus is on parties, elites and the EU, and on coalition governance. On these topics he has published articles in several international journals. He has recently edited The Challenge of Coalition Government: The Italian Case (2015 - with F. Marangoni) and Party Attitudes Towards the EU in the Member States. Parties for Europe, Parties Against Europe (2014).
Vincenzo Memoli is Assistant Professor of Political Science at the University of Catania, Italy. His main research interests are in the fields of democracy, media, public opinion and political behaviour. On these topics he has published articles in several international journals. He is the author of Why Policy Representation Matters: The Consequences of Ideological Congruence between Citizens and their Governments (2015 – with L. Curini and W. Joe).
Keywords
European integration
EU politics
Citizens
media use
new media
social media
European Union
Euroscepticism
Bibliographic information
DOI

https://doi.org/10.1007/978-3-319-45252-4

Copyright Information

The Editor(s) (if applicable) and The Author(s) 2016

Publisher Name

Palgrave Macmillan, Cham

Print ISBN

978-3-319-45251-7

Online ISBN

978-3-319-45252-4