Advancing Interdisciplinary Approaches to International Relations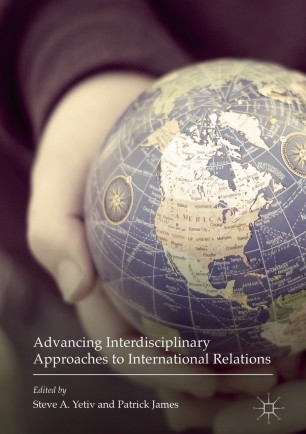 About this book
Introduction
This edited volume breaks new ground by innovatively drawing on multiple disciplines to enhance our understanding of international relations and conflict. The expansion of knowledge across disciplines and the increasingly blurred boundaries in the real world both enable and demand thinking across intellectual borders. While multidisciplinary and interdisciplinary are prominent buzz words, remarkably few books advance them. Yet doing so can sharpen and expand our perspective on academic and real world issues and problems. This book offers the most comprehensive treatment to date and is an invaluable resource for students, scholars and practitioners.
Steve A. Yetiv is the Louis I. Jaffe Professor of International Relations at Old Dominion University. A two-time Choice Outstanding Academic Book Award winner, his books include Explaining Foreign Policy (Johns Hopkins, 2011); The Petroleum Triangle (Cornell University Press, 2011); and Myths of the Oil Boom (Oxford University Press, 2015).
Patrick James is Professor of International Relations at the University of Southern California. He is author or editor of 24 books, along with 120 academic articles and book chapters. A former VP of the International Studies Association, James also served as president of the International Council for Canadian Studies, 2011-13, and president of the Peace Science Society, 2016-17.
Keywords
International Relations
Interdisciplinary Approach
Interdisciplinary Study
International Conflict
Interdisciplinarity
Cognitive Psychology
Cognitive Bias
Cognitive Biases
Anthropology of Conflict
Psychology of Conflict
Psychological Bias
Foreign Policy
Interdisciplinary Analysis
Neuroscience
Oxytocin
Bibliographic information