Switzerland's Differentiated European Integration
The Last Gallic Village?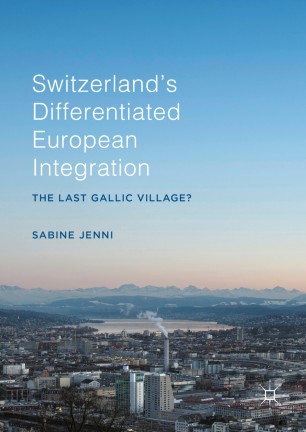 About this book
Introduction
'While there has been much talk in both scientific and political arenas, we still know little about the dynamics and day-to-day functioning of Switzerland's "bilateral way". Jenni's excellent book fills a gap. The innovative application of the "differentiated integration" framework to a rich collection of data makes an important contribution to both the Swiss and European literature.'
– Prof. Pascal Sciarini, Head of the Department of Political Science and International Relations, University of Geneva, Switzerland
'The book addresses very topical and hitherto under-investigated questions on the basis of an impressive database. It makes a major contribution to the existing literature both for conceptualizing the notion of differentiated integration at the level of regulatory Europeanization and for our knowledge of the scope and dynamism of European provisions in the Swiss legal order.'
– Prof. Sandra Lavenex, University of Geneva, Switzerland
'Sabine Jenni provides a systematic long-term analysis of the impact of European integration on Swiss legislation. She finds that, although Switzerland is not an EU member, it is subject to the same or functionally equivalent institutional dynamics as the member states. This study makes an important contribution to our understanding of differentiated integration – and a highly topical one in light of the 'Brexit' debate.'
– Prof. Frank Schimmelfennig, ETH Zurich, Switzerland
This book analyses Switzerland's European policies using the concept of differentiated European integration, providing a new and original perspective on the country. This analytical approach focuses on the similarities between Switzerland's EU policies and the integration of EU member states. The latter have often been the focus of research as Switzerland is the last Western European country not to have become a member of the European Union (EU) or the European Economic Area (EEA). The book claims that Switzerland's position on the European integration map is different in terms of degree from many EU member states, but not different in kind. The cornerstone of the book is new empirical data quantitatively measuring Switzerland's differentiated integration during the period 1990 – 2010. The data rely on the sectoral agreements Switzerland concluded with the EU and the voluntary incorporation of EU law into domestic legislation. The book shows, among other findings, that over time Swiss European policies have begun to resemble integration policies and that the more they did so, the more dynamically they evolved.
Sabine Jenni is Associated Researcher at ETH Zurich and holds teaching assignments at the University of Lucerne, Switzerland. She also works as a Project Coordinator for artasfoundation.
Keywords
Switzerland
European integration
Differentiated intergration
Europeanisation
Bilateral agreements
External differentiated intergration
Autonomous adaptation
Bibliographic information