Modes of Politicization in the Irish Civil Service
Ministers and the Politico-Administrative Relationship in Ireland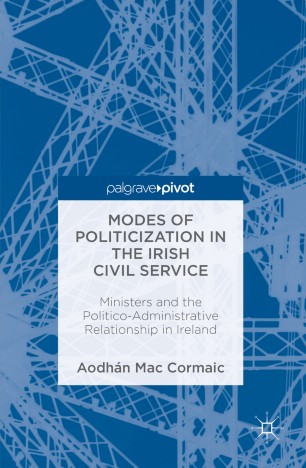 About this book
Introduction
This book presents a study of the relationship between Cabinet-level Ministers and top civil servants in Ireland. The nature of this relationship can potentially have far-reaching effects on people's lives as it can influence the type of public policy agreed at top levels of government. A total of sixteen interviews were carried out for the research, eight with retired Cabinet-level Ministers and eight with retired Secretaries General of Irish government departments. Anonymity, not just for the participants but also for the government departments in which they had served, was vital to the success of the research. Also vital was the fact that only retirees were interviewed as this removed the fear for participants that their careers might suffer if they spoke too frankly. The result is a collection of interviews containing frank and open views on the relationship between Ministers and their officials and on how this relationship influences public policy development.
Aodhán Mac Cormaic was born in Dublin and is a graduate of the London School of Economics and Political Science, UK, and Dublin City University, Ireland. He was awarded a Doctorate in Governance by Queen's University Belfast, Northern Ireland, in 2015. He has worked for almost 30 years in the Irish civil service, for most of that time in the Department of Arts, Heritage and the Gaeltacht.
Aodhán has worked closely with numerous Government Ministers, including Éamon Ó Cuív and Síle De Valera, both grandchildren of Éamon De Valera. He also worked for a time with President of Ireland, Michael D. Higgins, during his term as Minister for Arts, Culture and the Gaeltacht.
Keywords
Public administration
Policy analysis
State bureaucracies
Westminster system
Legislative reforms
Rational choice
Self-interest
Dissent
Bibliographic information