Decentralization and Governance in Indonesia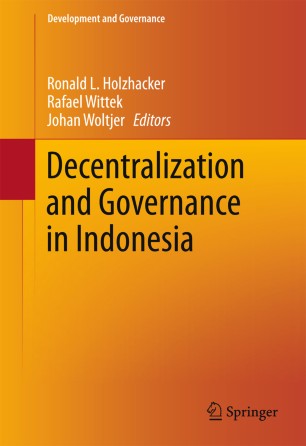 Table of contents
About this book
Introduction
Indonesia over the past two decades has embarked on decentralization as part of a broader process of democratization across the archipelago. The purpose of this book is to explore the connections between governance and sustainable society in a wide variety of policy fields, and how reforming governance structures may contribute to societal benefits and the creation of a long-term sustainable society in Indonesia.
This book bridges important theoretical debates related to governance and sustainable society and provides empirical research from Indonesia in important policy areas related to this debate. By placing research in various policy areas in a single volume, the link to the broader concepts of governance, decentralization, and societal outcomes is strengthened. The book builds on the recent interest that has focused on Indonesia and the continued development of democracy in the country. The
chapters in the book show a rich variety of decentralized governance arrangements and capacity building at the local level in particular. Central standards (for example for social sustainability, anti-corruption arrangements, and for dealing with direct foreign investment), combined with local innovation (for example for municipal coordination of primary health care or metropolitan transport), are key to Indonesia as a country in a continuing process of transformation.
We identify three key trends in the on-going process of decentralization and governance in Indonesia. First, we find that formal governance, the relation between the national and local government, is characterized by a system of 'variable geometry multi-level governance' depending on the policy area. The challenge ahead is strengthening accountability mechanisms to assure national standards while preserving and encouraging local innovation. Secondly, informal governance mechanisms are evolving to move from 'hierarchical to network' forms of governance. Here the challenge is to insure democratic input by citizens and civil society organizations. Finally,
we identify a trend toward 'shared value creation and sustainable cooperation.' Indonesia is beginning to move from a rather singular policy focus on economic growth to a more complex and developing notion of policymaking for inclusive growth and the creation of a sustainable society for present and future generations. Here the challenge is sound implementation and an increase in the effectiveness of governance mechanisms.
Keywords
Indonesia
decentralization
democracy
good governance
reformasi
sustainable society
Bibliographic information