Radionuclides in the Environment
Influence of chemical speciation and plant uptake on radionuclide migration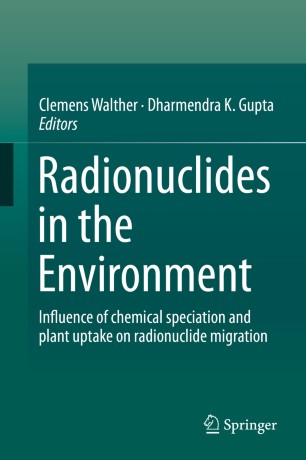 Table of contents
About this book
Introduction
This book provides extensive and comprehensive information to researchers and academicians who are interested in radionuclide contamination, its sources and environmental impact. It is also useful for graduate and undergraduate students specializing in radioactive-waste disposal and its impact on natural as well as manmade environments.
A number of sites are affected by large legacies of waste from the mining and processing of radioactive minerals. Over recent decades, several hundred radioactive isotopes (radioisotopes) of natural elements have been produced artificially, including 90Sr, 137Cs and 131I. Several other anthropogenic radioactive elements have also been produced in large quantities, for example technetium, neptunium, plutonium and americium, although plutonium does occur naturally in trace amounts in uranium ores. The deposition of radionuclides on vegetation and soil, as well as the uptake from polluted aquifers (root uptake or irrigation) are the initial point for their transfer into the terrestrial environment and into food chains. There are two principal deposition processes for the removal of pollutants from the atmosphere: dry deposition is the direct transfer through absorption of gases and particles by natural surfaces, such as vegetation, whereas showery or wet deposition is the transport of a substance from the atmosphere to the ground by snow, hail or rain. Once deposited on any vegetation, radionuclide
s are removed from plants by the airstream and rain, either through percolation or by cuticular scratch. The increase in biomass during plant growth does not cause a loss of activity, but it does lead to a decrease in activity concentration due to effective dilution. There is also systemic transport (translocation) of radionuclides within the plant subsequent to foliar uptake, leading the transfer of chemical components to other parts of the plant that have not been contaminated directly.
Keywords
Artificial radioisotopes
Bioaccumulation of radionuclides
Environmental radioactivity
Radioactive waste
Radioecology
Radiotracer
Bibliographic information
DOI

https://doi.org/10.1007/978-3-319-22171-7

Copyright Information

Springer International Publishing Switzerland 2015

Publisher Name

Springer, Cham

Print ISBN

978-3-319-22170-0

Online ISBN

978-3-319-22171-7