Buddhist Foundations of Mindfulness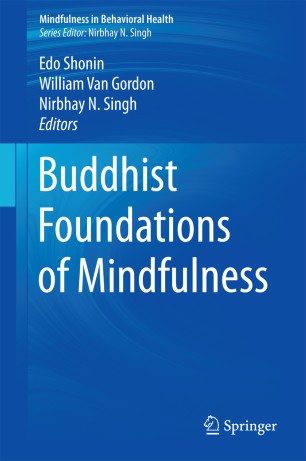 Table of contents
About this book
Introduction
This book explores a wide range of mindfulness and meditative practices and traditions across Buddhism. It deepens contemporary understanding of mindfulness by examining its relationship with key Buddhist teachings, such as the Four Noble Truths and the Noble Eight-Fold Path. In addition, the volume explores how traditional mindfulness can be more meaningfully incorporated into current psychological research and clinical practice with individuals and groups (e.g., through the Buddhist Psychological Model).
Key topics featured in this volume include:
Ethics and mindfulness in Pāli Buddhism and their implications for secular mindfulness-based applications.
Mindfulness of emptiness and the emptiness of mindfulness.
Buddhist teachings that support the psychological principles in a mindfulness program.
A practical contextualization and explanatory framework for mindfulness-based interventions.
Mindfulness in an authentic, transformative, everyday Zen practice.
Pristine mindfulness.
Buddhist Foundations of Mindfulness is an indispensable resource for clinical psychologists, and affiliated medical and mental health professionals, including specialists in complementary and alternative medicine as well as social work as well as teachers of Buddhism and meditation.
Keywords
Anapanasati Sutra practice
Brahmaviharas-the Four Immeasurables
Buddhist foundations of mindfulness
Buddhist foundations of self-compassion
Buddhist psychological model of mindfulness
Buddhist teachings and mindfulness meditation
Contemporary Buddhism and mindfulness meditation
Four Establishments of mindfulness
Four Noble Truths and mindfulness
Mindfulness Noble Eight-Fold Path
Mindfulness and breath awareness
Mindfulness and emptiness
Mindfulness and the Middle Way
Mindfulness and the Six Perfections
Sati and mindfulness meditation
Satipatthana Sutra practice
Self-compassion and mindfulness meditation
Shamatha meditation and mindfulness
Three Dharma Seals and mindfulness
Vipassana meditation and mindfulness
Bibliographic information
DOI

https://doi.org/10.1007/978-3-319-18591-0

Copyright Information

Springer International Publishing Switzerland 2015

Publisher Name

Springer, Cham

eBook Packages

Behavioral Science Behavioral Science and Psychology (R0)

Print ISBN

978-3-319-18590-3

Online ISBN

978-3-319-18591-0

Series Print ISSN

2195-9579

Series Online ISSN

2195-9587