© 2020
The Real Psychology of the Trump Presidency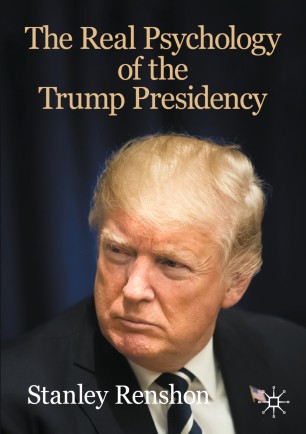 Table of contents
About this book
Introduction
The United States has never had a president quite like Donald J. Trump. He violated every rule of conventional presidential campaigns to win a race that almost no one, including at times he himself, thought he would win. In so doing, Trump set off cataclysmic shock waves across the country and world that have not subsided and are unlikely to as long as he remains in office. Critics of Trump abound, as do anonymously sourced speculations about his motives, yet the real man behind this unprecedented presidency remains largely unknown. In this innovative analysis, American presidency scholar and trained psychoanalyst Stanley Renshon reaches beyond partisan narrative to offer a serious and substantive examination of Trump's real psychology and controversial presidency. He analyzes Trump as a preemptive president trying to become transformative by initiating a Politics of American Restoration. Rigorously grounded in both political science and psychology scholarship, The Real Psychology of the Trump Presidency offers a unique and thoughtful perspective on our controversial 45th president.

Stanley Renshon is Professor of Political Science at the City University of New York, Herbert H. Lehman College and the Graduate School and University Center, and a certified psychoanalyst.

Keywords
political psychology
America First
presidential leadership
executive power
Make America Great Again
presidential campaign
political time
Skowronek
preemptive president
Reconstructive president
presidential personality
campaign
electoral politics
temperament
decision-making
domestic policy
foreign policy
Narcissism
tabloid stardom
White house
Bibliographic information
Reviews
"This highly instructive and engaging new book presents an empirically grounded psychological assessment of Donald Trump's presidential leadership and governance. The argument that Trump seeks to achieve the politics of American restoration is developed with evidence-based analysis, which systematically discusses the leadership qualities needed to attain this goal as well as the challenges they pose. The careful research and clear writing make an enduring contribution to understanding the American presidency and American politics in the twenty-first century."
—Meena Bose, Executive Dean for Public Policy and Public Service Programs, Hofstra University, USA
"In psyhoanalyst Stanley Renshon's insightful new study of Donald Trump, he carefully sifts the evidence for clues as to whether the president will be a 'fading flash' or a successful reconstructive president. His persuasive nonpartisan conclusion: it would be unwise to place a large bet against President Trump."
—Bruce Buchanan, Professor Emeritus of Government, University of Texas at Austin, USA
"This is a wide-ranging work that brings together several strands of political science, including party polarization, regime cycles, presidential character, and psycho-biography. Renshon shatters the often unreflective conventional wisdom surrounding this president, acknowledging his weaknesses while also taking seriously his political goals and the foundations of his popular support. Instead of one-dimensional caricatures of Trump and his followers, Renshon provides a rich intermix of character study, historical context, and political critique. In the end, Trump's rise is closely tied to the failures of the political class and its assumptions and orthodoxies, with Trump representing a concerted attempt to bring about the 'Politics of American Restoration.' This book is essential reading for anyone desiring a more nuanced understanding of the Trump presidency and of the president himself."
—
David Crockett
, Professor of Political Science, Trinity University, USA
"Trump's leadership and the Trump phenomenon have needed serious, noncartoon-like analysis from a scholar who understands both the country and the personality of America's unusual 45th president. Dr. Renshon provided it, in readable, illuminating fashion."
—Holman W. Jenkins Jr., Columnist, The Wall Street Journal
"Donald John Trump may be the most anti-establishment, disruptive and perplexing president since Andrew Jackson. His critics pounce on his utterances and at rallies his supporters celebrate his actions and statements. In this book, Stanley A.Renshon critically reviews what has been written about his first term and provides a thought-provoking, compelling and fresh analysis of the man, his rhetoric, and policies. It is indeed a fascinating reading. For those readers who like to highlight sentences in provocative books, you will find much to underline and quote."
—Wilbur C. Rich, William R. Kenan Jr. Professor Emeritus of Political Science, Wellesley College, USA
"Stanley Renshon offers a systematic and pungent challenge to the wide range of critics of Donald Trump, the man and the President. He and the framework he offers see capabilities where others see close to madness, as Trump offers his own reconstruction of the American presidency designed toward the restoration of the nation to greatness. This is a most provocative book for the 2020 election year."
—Robert Y. Shapiro, Wallace S. Sayre Professor of Government and International and Public Affairs, Columbia University, USA
"Fascinating. Having interviewed six American presidents and known some of them very well, traveling with them for months on end and visiting with them alone for hours and days at a time, it is stunning to me to see how Stanley Renshon can capture so much from their public lives.
—
Doug Wead
, Presidential Historian and New York Times bestselling author of
Inside Trump's White
House (2019)