© 2020
2018 MATRIX Annals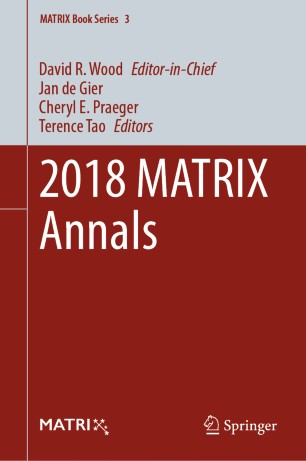 Table of contents
About this book
Introduction
MATRIX is Australia's international and residential mathematical research institute. It facilitates new collaborations and mathematical advances through intensive residential research programs, each 1-4 weeks in duration. This book is a scientific record of the eight programs held at MATRIX in 2018:

- Non-Equilibrium Systems and Special Functions
- Algebraic Geometry, Approximation and Optimisation
- On the Frontiers of High Dimensional Computation
- Month of Mathematical Biology
- Dynamics, Foliations, and Geometry In Dimension 3
- Recent Trends on Nonlinear PDEs of Elliptic and Parabolic Type
- Functional Data Analysis and Beyond
- Geometric and Categorical Representation Theory
The articles are grouped into peer-reviewed contributions and other contributions. The peer-reviewed articles present original results or reviews on a topic related to the MATRIX program; the remaining contributions are predominantly lecture notes or short articles based on talks or activities at MATRIX.

Keywords
Mathematical Research Institute MATRIX
special functions
algebraic geometry
approximation
optimisation
high dimensional computation
mathematical biology
dynamics
low dimensional geometry
nonlinear PDEs
representation theory
Bibliographic information