Osteosarcopenia: Bone, Muscle and Fat Interactions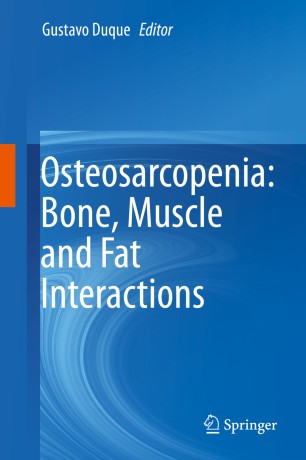 About this book
Introduction
This edited work presents the most current evidence on osteosarcopenia from bench to bedside, which is expected to facilitate the understanding of this syndrome and to develop preventive and therapeutic strategies.
With our aging population, chronic diseases such as osteoporosis and sarcopenia are becoming highly prevalent. Fortunately, our understanding of the bone and muscle interactions has increased in recent years. This has allowed to the coining of the term osteosarcopenia to describe a syndrome in which these two diseases overlap. This overlap between osteoporosis and sarcopenia has major negative effects not only on our older adults but also on health systems worldwide.
Readers will find a highly translational approach that starts with a summary of recent discoveries on stem cells biology, muscle and bone interactions – including the role of local bone and muscle fat – followed by comprehensive reviews on myokines (i.e. myostatin), osteokines (i.e. osteocalcin) and adipokines (i.e. interleukins) as major players and determinants of bone and muscle loss with aging. In addition, the role of sex steroids (i.e. estrogens, androgens), and calciotropic hormones (i.e. parathyroid hormone, vitamin D) in the pathogenesis of this syndrome is also reviewed. Moreover, using practical diagnostic and therapeutic tips, this book summarizes the clinical characteristics of osteosarcopenic patients thus facilitating the diagnosis and treatment of this syndrome in clinical practice. Finally, the book presents the case for the Falls and Fractures Clinic as the optimal model of care for this syndrome, aimed to avoid fragmentation and optimize osteosarcopenia care, and simultaneously prevent falls and fractures in older persons.
This book offers relevant information on the mechanisms of osteosarcopenia, and a practical guide on how to identify and treat this geriatric syndrome and its adverse outcomes, which are dramatically affecting our aging population.
The work is written by leaders in the field and is especially suited not only to any researcher in the musculoskeletal arena but also to medical specialists and allied health professionals involved in the care of older persons.
Keywords
Osteosarcopenia
Sarcopenia
Biological mechanisms of bone and muscle loss
Osteoporosis
Muscle
Bone
Mesenchymal Stem Cells
Bibliographic information