© 2019
Islamic Monetary Economics and Institutions
Theory and Practice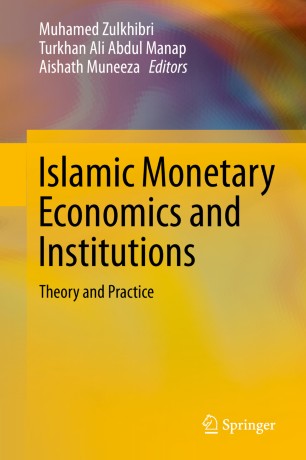 Table of contents
About this book
Introduction
This edited volume explores theoretical and empirical issues related to monetary economics and policy in the Islamic financial system. Derived from the Conference on Islamic Monetary Economics and Institutions: Theory and Practice 2017 held in Malé, Maldives, the enclosed papers highlights several option for authorities and regulatory bodies regarding monetary policy and regulation, as well as discussing how Islamic monetary policy effects growth, financial stability and resilience to shocks in practice. The inter-linkage between Islamic monetary policy and other markets are also explored.
The subject of Islamic economics has gained considerable attention in the last four decades with the emergence of Islamic financial institutions around the world. This phenomenon has motivated economists to develop a comprehensive theoretical framework of modern monetary economics for Islamic economic system. An important characteristic of the Islamic economic system is the abolition of interest from the financial system. Islamic monetary economics is distinguished from conventional monetary economics due to the absence of interest. Therefore, under the Islamic economic system, monetary policy has to depend on other tools. In the early theoretical literature on Islamic monetary economics, many have discussed the role of money in Islamic economics system, while the number of empirical studies on Islamic monetary economics is a relatively new phenomenon. According to Islamic scholars, there are three main goals of Islamic monetary policy: a) economic well-being with full employment and optimum rate of economic growth; b) socioeconomic justice and equitable distribution of income and wealth and c) stability in the value of money. Hence, the Islamic monetary policy has several socioeconomic and ethical implications.
Featuring regional case studies, this book serves as a valuable resource for academics, scholars, practitioners and policy makers in the areas of Islamic economics and finance.
Keywords
Islamic monetary economics
Islamic monetary policy
Islamic finance
Islamic banks
Interest-free economy
Macroeconomic model
Waqf
Zakat
Fintech
Participatory Finance
Equity-Based Financial System
Bibliographic information