Political Culture in the Baltic States
Between National and European Integration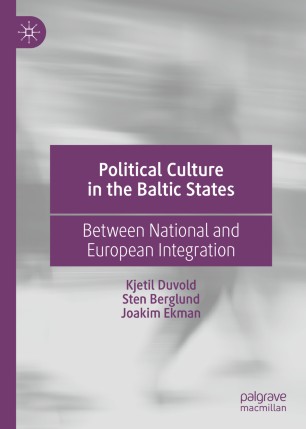 About this book
Introduction
The book is the first systematic and comparative effort to capture political culture in the Baltic countries, including political orientation and support for democracy. Revolving around public opinion data from the 1990s and onwards, including two recent surveys commissioned by the authors, the book takes stock of the political climate prevailing in Estonia, Latvia and Lithuania a quarter of a century after reclaiming independence and fifteen years after becoming members of NATO and the EU. These three countries share the same geopolitical fate and many contemporary challenges, and yet each has been marked by their own transitions and struggles between nation building and European integration, Western and post-Soviet orientations, and past experience and future aspirations.
Kjetil Duvold is Associate Professor of Political Science at Dalarna University, Sweden.
Sten Berglund is Professor Emeritus at Örebro University, Sweden.
Joakim Ekman is Professor of Political Science and Director of the Centre for Baltic and East European Studies (CBEES) at Södertörn University, Sweden.
Keywords
Comparative European politics
Europe-Russia relations
Baltic studies
Nationality
Eastern Europe
Russian minority
Political culture
Post-Soviet politics
Bibliographic information