Performance Management at Universities
The Danish Bibliometric Research Indicator at Work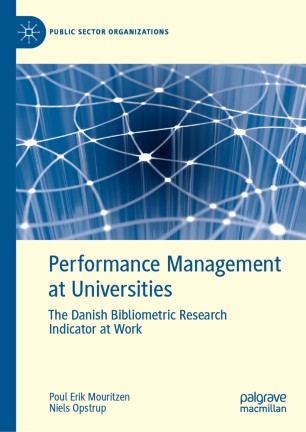 Table of contents
About this book
Introduction
"Mouritzen and Opstrup's book is a most welcome addition to the subject of the management of academic performance. It is certainly well-worth reading and considering."
—Bruno S. Frey, Permanent Visiting Professor at the University of Basel and Research Director CREMA - Center for Research in Economics, Management and the Arts, Switzerland
"This superb book should be read by anyone interested higher education evaluation as well as by those who are subjected to it."
—Barry Bozeman, Regents' Professor, Arizona Centennial Professor of Technology Policy and Public Management, School of Public Affairs, Arizona State University, USA
"In Performance Management at Universities, Mouritzen and Opstrup definitively answer the question: What are the effects of national university performance-based funding schemes that use bibliometric indicators? The authors marshal comprehensive data on the Danish university system to sift through the many predictions commonly made by academics newly subject to these systems to identify what actually happened to Danish research as the system took hold."
—Diana Hicks, Professor, School of Public Policy, Georgia Institute of Technology, USA, and first author on the Leiden Manifesto on research metrics
This book gives an account of what can happen when performance management is introduced at universities. How do scholars – for better or worse – respond to a system which counts the number of articles and books? Many myths exist about scholar's reactions: They cheat, slice their production to the least publishable unit, become more risk averse and will go for the low-hanging fruits; in short, they develop a "taste for publication" at the cost of a "taste of science". Systematic knowledge about the consequences of such systems for the motivation, behavior and productivity of university scholars is in short supply. The book is a major contribution to remedy this situation.
Poul Erik Mouritzen is Professor Emeritus in the Department of Political Science, Aarhus University, Denmark.
Niels Opstrup is an associate professor in the Department of Political Science and Public Management, University of Southern Denmark.
Keywords
performance management
Bibliometric research indicator
University funding
scholarly reactions
university governance
implementation
incentives
management tools
isomorphism
rational adaption
academic inventives
principal-agent theory
colonization
misrepresentation
monitoring
ambiguities
unintended consequences
goal displacement
normative structure
extrinsic motivation
Bibliographic information