Regenerative Medicine and Plastic Surgery
Skin and Soft Tissue, Bone, Cartilage, Muscle, Tendon and Nerves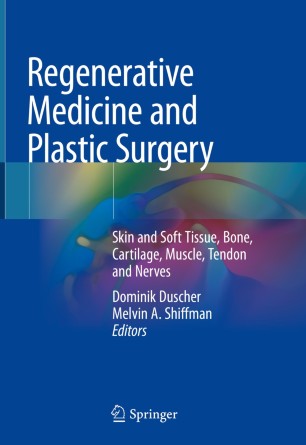 Table of contents
About this book
Introduction
This book presents the latest advances in the field of regenerative medicine in plastic surgery. It is the first authoritative reference documenting all the ways that plastic surgical practice and regenerative medicine science overlap or provide a road map for the future of both specialties. The Editors have provided a valuable service by gathering in one place the leading voices in these two fields in clear and concise manner.
The first part introduces readers to essential principles of skin and soft tissue regeneration, e.g. the possibility of using mesenchymal stem cells for wound healing. Since bone serves as a supportive tissue in most of the body, bone regeneration is an important aspect of regenerative medicine; accordingly, the second part discusses the novel bone implants, activated bone grafts and bone tissue engineering. The book's third part, focusing on cartilage regeneration, includes chapters on e.g. stem cells and ear regeneration. In turn, part four addresses muscle and tendon regeneration: from tendon to bone and tendon to muscle, as well as aging in the realm of muscle regeneration. Lastly, part five highlights nerve regeneration, deepening surgeons' knowledge to help them successfully treat injuries to the peripheral neural system.
Written by leading experts this book is an invaluable resource for researchers, students, beginners and experienced clinicians in a range of specialties.

"With beautiful clinical images and artwork, this book will be a central companion to both practicing plastic surgeons who wish to remain abreast of oncoming technologic advances and regenerative medicine researchers who wish to understand the current state of the art of surgical reconstruction."
- Geoffrey C. Gurtner, MD, FACS
Johnson and Johnson Distinguished Professor of Surgery
Professor (by courtesy) of Bioengineering and Materials Science
Inaugural Vice Chairman of Surgery for Innovation
Stanford University School of Medicine

Keywords
Skin substitutes
Osteoinductive scaffolds
Trigeminal Nerve Injury
Pericytes
Jellyfish Collagen
Bibliographic information