Tree Breeding and Genetics in New Zealand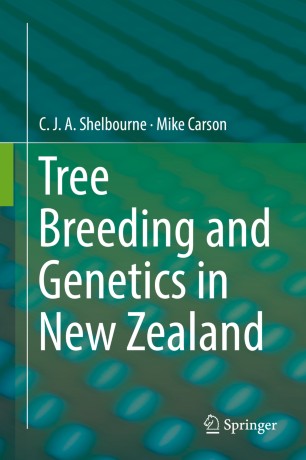 About this book
Introduction
Dothistroma pini changed New Zealand commercial forestry dramatically. Tree breeding became concentrated on a very few species and development of selection methods and breeding strategies changed in response to the new challenges.
Tree-Breeding and Genetics in New Zealand provides a critical historical account of the work on provenance research and tree breeding, often with the wisdom of hindsight, and it tracks the development of breeding strategy, especially for P. radiata, Douglas-fir and the most important eucalypt species, E. regnans, E. fastigata and E. nitens.
The book is a compendium of abstracts and summaries of all publications and reports on tree improvement in New Zealand since the early 1950s, with added critical comment by the author on much of the work. It is intended for other tree breeders internationally, for interested NZ foresters and for graduate students studying genetics and tree breeding.
Keywords
New Zealand
Plantations
Exotics
Provenance
Breeding
Quantitative genetics
Bibliographic information