Handbook of Attenuated Psychosis Syndrome Across Cultures
International Perspectives on Early Identification and Intervention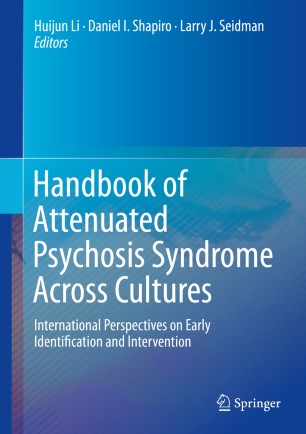 Table of contents
Introduction and Overview of Assessment and Intervention in Attenuated Psychosis Syndromes

Conceptual and Measurement Foundations in Attenuated Psychosis Syndromes

Borderlands of Cultural and Medical Conceptualizations of Attenuated Psychosis Syndromes

International Research and Clinical Practice on Attenuated Psychosis Syndromes

Directions for Future Research and Clinical Practice with Attenuated Psychosis Syndromes
About this book
Introduction
This handbook examines state-of-the-art research and clinical findings on attenuated psychosis syndrome (APS) across the globe. It addresses symptoms, assessment methods, and treatment approaches as they differ and converge across countries and cultures. The handbook explores how the illness impairs many aspects of daily functioning, with high rates of suicide and a reduced life span. It details how early detection is critical and may greatly reduce the public health burden of the illness. Chapters describe the early identification and intervention efforts that are currently underway across the world. The book offers international findings from prominent researchers, elaborating culturally relevant illness symptoms, help-seeking behaviors, and assessment and intervention strategies. In addition, chapters illustrate wide variations in symptom expression and experience, reinforcing the necessity of culturally attuned practice in patient-centered care. The book concludes by examining the implications – challenges and opportunities – for future research and clinical practices from an international perspective.
Topics featured in the Handbook include:
Barriers to service in low-resourced countries.

The role of traditional or culturally acceptable care in developing early intervention models.

The reliability and validity of tools for assessing and identifying APS.

Possible medical diagnoses that can present with APS symptoms and how to differentiate these conditions from APS.

The Handbook of Attenuated Psychosis Syndrome Across Cultures is a must-have resource for researchers, professors, clinicians, and related professionals as well as graduate students in child and school psychology, psychiatry, social work, and related disciplines.
Keywords
Argentinian adolescents and attenuated psychosis syndrome
Assessment and treatment of attenuated psychosis syndrome
Attenuated psychosis syndrome and African American youth
Attenuated psychosis syndrome and Asian American teenagers
Attenuated psychosis syndrome and Brazilian youth
Attenuated psychosis syndrome and Chinese youth
Attenuated psychosis syndrome and Indian adolescents
Attenuated psychosis syndrome and Latino American youth
Attenuated psychosis syndrome and Nigerian youth
Attenuated psychosis syndrome in Kenya
Attenuated psychosis syndrome in Singapore
Australian adolescents and attenuated psychosis syndrome
British youth and attenuated psychosis syndrome
Canadian teenagers and attenuated psychosis syndrome
Emerging adulthood and attenuated psychosis syndrome
Etiology of attenuated psychosis syndrome
Japanese adolescents and attenuated psychosis syndrome
Mexican youth and attenuated psychosis syndrome
Swiss adolescents and attenuated psychosis syndrome
Tunisian teenagers and attenuated psychosis syndrome
Bibliographic information
DOI

https://doi.org/10.1007/978-3-030-17336-4

Copyright Information

Springer Nature Switzerland AG 2019

Publisher Name

Springer, Cham

Print ISBN

978-3-030-17335-7

Online ISBN

978-3-030-17336-4