Handbook on Children with Incarcerated Parents
Research, Policy, and Practice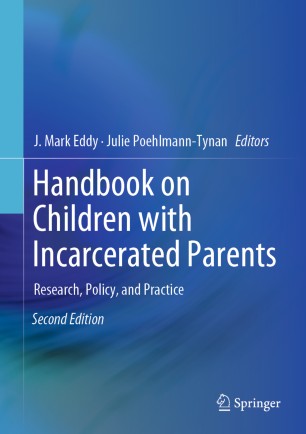 Table of contents
About this book
Introduction
The second edition of this handbook examines family life, health, and educational issues that often arise for the millions of children in the United States whose parents are in prison or jail. It details how these youth are more likely to exhibit behavior problems such as aggression, substance abuse, learning difficulties, mental health concerns, and physical health issues. It also examines resilience and how children and families thrive even in the face of multiple challenges related to parental incarceration. Chapters integrate diverse; interdisciplinary; and rapidly expanding literature and synthesizes rigorous scholarship to address the needs of children from multiple perspectives, including child welfare; education; health care; mental health; law enforcement; corrections; and law. The handbook concludes with a chapter that explores new directions in research, policy, and practice to improve the life chances of children with incarcerated parents.
Topics featured in this handbook include:
Findings from the Fragile Families and Child Wellbeing Study.

How parental incarceration contributes to racial and ethnic disparities and inequality.

Parent-child visits when parents are incarcerated in prison or jail.

Approaches to empowering incarcerated parents of color and their families.

International advances for incarcerated parents and their children.

The second edition of the Handbook on Children with Incarcerated Parents is an essential reference for researchers, professors, clinicians/practitioners, and graduate students across developmental psychology, criminology, sociology, law, psychiatry, social work, public health, human development, and family studies.
"This important new volume provides a cutting-edge update of research on the impact of incarceration on family life. The book will be an essential reference for researchers and practitioners working at the intersections of criminal justice, poverty, and child development."
Bruce Western, Ph.D., Columbia University
"
The comprehensive, interdisciplinary focus of this handbook brilliantly showcases the latest research, interventions, programs, and policies relevant to the well-being of children with incarcerated parents. This edition is a 'must-read' for students, researchers, practitioners, and policy-makers alike who are dedicated to promoting the health and resilience of children affected by parental incarceration.
"
Leslie Leve, Ph.D., University of Oregon
Keywords
Bureau of Justice Statistics National Surveys
Caregiving, family contexts and incarcerated parents
Child behavioral outcomes and parental incarceration
Child educational outcomes and parental incarceration
Child-friendly visitation and corrections
Childhood physical health and parental incarceration
Community reentry, transition, and parental incarceration
Community reentry, transition, and parental incarceration
Family Law Project, incarcerated parents, and child well-being
Fragile Families and Child Well-Being Study
Incarcerated mothers and child development
Incarcerated parents and social outcomes for children
Infants and young children with incarcerated parents
Intergenerational consequences of parental incarceration
Nonprofits, intervention and prevention services
Parental criminal justice and child contact and well-being
Parental incarceration, middle childhood, adolescence
Prison nurseries and incarcerated parents
Probation, community service, incarceration alternatives
Racial and ethnic disparities and criminal justice
Bibliographic information
DOI

https://doi.org/10.1007/978-3-030-16707-3

Copyright Information

Springer Nature Switzerland AG 2019

Publisher Name

Springer, Cham

Print ISBN

978-3-030-16706-6

Online ISBN

978-3-030-16707-3