Extracellular Sugar-Based Biopolymers Matrices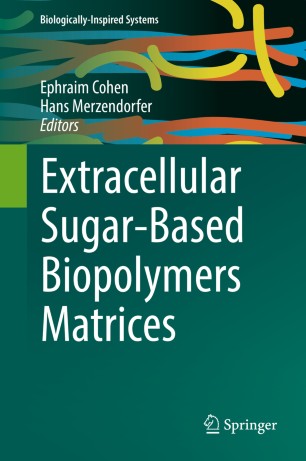 Table of contents
Aminosugar-Based Exopolysaccharides: Chitin-Based Extracellular Matrices

Aminosugar-Based Exopolysaccharides: Glucosaminoglycans

Aminosugar-Based Exopolysaccharides: Peptidoglycans

Glucose-Based Exopolysaccharides

Galacturonic Acid and Xylolactan-Based Exopolysaccharide

Alginic Acid-Based Exopolysaccharides

Industrial and Biomedical Applications of Biopolysaccharides
About this book
Introduction
The extracellular matrix (ECM) is an acellular three-dimensional network composed of proteins, glycoproteins, proteoglycans and exopolysaccharides. It primarily serves as a structural component in the tissues and organs of plants and animals, or forms biofilms in which bacterial cells are embedded. ECMs are highly dynamic structures that undergo continuous remodeling, and disruptions are frequently the result of pathological processes associated with severe diseases such as arteriosclerosis, neurodegenerative illness or cancer. In turn, bacterial biofilms are a source of concern for human health, as they are associated with resistance to antibiotics. Although exopolysaccharides are crucial for ECM formation and function, they have received considerably little attention to date.
The respective chapters of this book comprehensively address such issues, and provide reviews on the structural, biochemical, molecular and biophysical properties of exopolysaccharides. These components are abundantly produced by virtually all taxa including bacteria, algae, plants, fungi, invertebrates and vertebrates. They include long unbranched homopolymers (cellulose, chitin/chitosan), linear copolymers (alginate, agarose), peptoglycans such as murein, heteropolymers like a variety of glycosaminoglycans (hyaluronan, dermatan, keratin, heparin, Pel), and branched heteropolymers such as pectin and hemicellulose.
A separate chapter is dedicated to modern industrial and biomedical applications of exopolysaccharides and polysaccharide-based biocomposites. Their unique chemical, physical and mechanical properties have attracted considerable interest, inspired basic and applied research, and have already been harnessed to form structural biocomposite hybrids for tailor-made applications in regenerative medicine, bioengineering and biosensor design.
Given its scope, this book provides a substantial source of basic and applied information for a wide range of scientists, as well as valuable textbook for graduate and advanced undergraduate students.
Keywords
Extracellular matrices
Extracellular polysaccharides
Bacterial biofilms
Industrial and biomedical applications
Animal biochemistry
Plant Biochemistry
Bibliographic information
DOI

https://doi.org/10.1007/978-3-030-12919-4

Copyright Information

Springer Nature Switzerland AG 2019

Publisher Name

Springer, Cham

eBook Packages

Biomedical and Life Sciences

Print ISBN

978-3-030-12918-7

Online ISBN

978-3-030-12919-4

Series Print ISSN

2211-0593

Series Online ISSN

2211-0607