Handbook of Children and Prejudice
Integrating Research, Practice, and Policy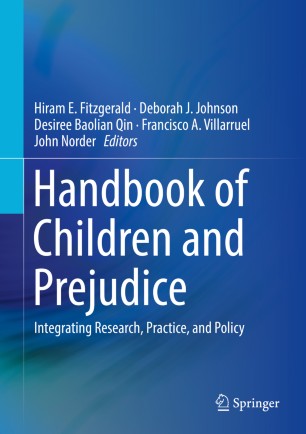 Table of contents
About this book
Introduction
This handbook examines the effects and influences on child and youth development of prejudice, discrimination, and inequity as well as other critical contexts, including implicit bias, explicit racism, post immigration processes, social policies, parenting and media influences. It traces the impact of bias and discrimination on children, from infancy through emerging adulthood with implications for later years. The handbook explores ways in which the expanding social, economic, and racial inequities in society are linked to increases in negative outcomes for children through exposure to adverse childhood experiences (ACEs). Chapters examine a range of ACEs – low income, separation/divorce, family substance abuse and mental illness, exposure to neighborhood and/or domestic violence, parental incarceration, immigration and displacement, and parent loss through death. Chapters also discuss discrimination and prejudice within the adverse experiences of African American, Asian American, European American, Latino, Native American, Arab American, and Sikh as well as LGBTQ youth and non-binary children. Additionally, the handbook elevates dynamic aspects of resilience, adjustment, and the daily triumphs of children and youth faced with issues related to prejudice and differential treatment.
Topics featured in the Handbook include:
The intergenerational transmission of protective parent responses to historical trauma.

The emotional impact of the acting-white accusation.

DREAMers and their experience growing up undocumented in the USA.

Online racial discrimination and its relation to mental health and academic outcomes.

Teaching strategies for preventing bigoted behavior in class.

Emerging areas such as sociopolitical issues, gender prejudice, and dating violence.
The Handbook of Children and Prejudice is a must-have resource for researchers, graduate students, clinicians, therapists, and other professionals in clinical child and school psychology, social work, public health, developmental psychology, pediatrics, family studies, juvenile justice, child and adolescent psychiatry, and educational psychology.
Keywords
African American children, teacher race, & academic achievement
American Indian, Alaska Native children and prejudice
Arab Americans and childhood prejudice
Asian American youth and racial discrimination
Ecological approach to the study of childhood prejudice
Ethnic and racial prejudice and child development
Families, peers, and prejudice
Gender identity, LGBTQ youth, and discrimination
Implicit and explicit prejudice and early childhood
Juvenile justice system and prejudice
Latino children and discrimination in the United States
Muslim children, identity-based and religious discrimination
Prejudice, pregnancy, and early child development
Prosocial behaviors, resilience, and prejudice
Prosocial behaviors, resilience, and prejudice
Sikh youth development and discrimination
Social inclusion and exclusion during childhood
Social media, youth, and discrimination exposure
Trauma, identity, and child development
Western Australian Aboriginal children, youth, and racism
Bibliographic information
DOI

https://doi.org/10.1007/978-3-030-12228-7

Copyright Information

Springer Nature Switzerland AG 2019

Publisher Name

Springer, Cham

Print ISBN

978-3-030-12227-0

Online ISBN

978-3-030-12228-7